Jump to:
A general contractor manages all the details involved in a renovation project. If you're about to start construction on your commercial building, you need a reliable team that knows how to navigate obstacles and deliver fast turnaround times. Learn more about the industry best practices HR Construction Group employs as a successful general contractor through the COVID-19 pandemic and other difficult times.
1. Hire an Experienced Staff
A general contractor hires the right team for their commercial renovation project. Since everyone works together, contractors have to find workers who have the aptitude, experience, and expertise to tackle any project. When they treat their employees with respect, everyone gets the job done well and is more likely to return for more commercial renovation projects.
At HR Construction Group, we act as a super-subcontractor and hire the plumbers, electricians, and other workers we need to get the job done right. In addition, we employ staff who will follow necessary health and safety precautions to keep your business open and in compliance with local and national health regulations.
2. Build a Good Relationship With the Owner of the Project
An open and honest relationship between a general contractor and their client creates good rapport and establishes trust. Successful contractors get referrals when they treat their clients with respect. Though it's easy to get caught up in the details of a project during the workday, effective general contractors remember that their relationship with the owner is earned and more important than just getting the job done on time. Their client's complete satisfaction is paramount above all else.
When you choose HR Construction Group as a general contractor for your commercial renovation, we'll develop a communication plan to be reachable and keep an open line with you. Whether you'd like a standardized set of reports every week to let you know how the project is going or another means of updates, we'll establish a system to keep you in the loop. In all projects, we aim to reduce frustrating surprises and maintain excellent communication.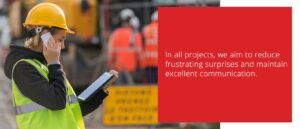 3. Keep the Relationship During and After the Project
General contractors may follow up with how the client is doing and how everything is going. It's helpful to create a space where the client feels they can share openly and honestly. Contractors should take their client's ideas seriously and strive to collaborate on their commercial renovation projects. They can also build an excellent relationship with their client by having a positive attitude during and after the project. That way, when the next commercial renovation project comes up, the client will think of the same contractor to help them build quality experiences for their guests again.
The HR Construction Group team ensures we maintain a good relationship with our clients is to follow up after the project is completed. As a form of due diligence, following up with clients enables us to communicate our care about how things are going. It also allows us to better serve you, as we can quickly answer questions and address requests.
4. Aim for Crazy Fast Turnarounds
Since modern construction is all about speed and efficiency, a successful general contractor knows how to quickly turn their projects around. The client may be concerned about the cost, but general contractors should work without cutting corners. Hiring a reliable commercial contractor skilled in fast-track projects can help you save money in the long run by doing it right the first time.
Besides the contractor's incentive to aim for fast turnaround times to take on more clients, fast turnaround times also serve the client. At HR Construction Group, we strive for peak efficiency, so our clients can get to work quicker and receive guests sooner. Since we are a fast-track commercial general contractor, our clients can quickly start using their facilities or tackling other projects, helping them generate revenue during construction or as soon as the project is done.
5. Overcome Obstacles With Excellence
The construction industry was considered an essential business during the COVID-19 shutdown to help managers renovate their commercial spaces. So if you're looking for a successful general contractor during the COVID-19 pandemic and other hard times we might face in the future, explore some of the things we do as a company to maintain a safe job site:
– Employees wear masks all day: To limit the spread of airborne germs between employees and clients, we ask our team and subcontractors to wear masks throughout the day, including while on the job site.
– Daily check-ins: Our team uses a QR code so everyone checks in and out every day. This practice allows us to keep track of every employee and limit exposure to one another.
– Temperature checks: One of the most prevalent signs of a virus is fever. At the start of each workday, we check everyones' temperature and send them home if it's too high.
– Testing based on symptoms: We look for people experiencing signs of illness, such as coughing, sneezing, or runny noses. If anyone notices a sick member of the team, we'll test them for a virus and send them home if they're contagious.
– Employees working in different areas while maintaining social distance: We've updated our job rules to ensure our employees practice social distancing. We limit the number of people working on a job at a time and restrict rotational working hours.
– Show the business owners the safety measures we're taking: If you're concerned about how we keep your business safe and healthy as we work, we'd be happy to discuss our best practices in detail with you.
– Discuss delays and increased costs with current clients: As a successful general contractor during the COVID-19 pandemic, we review the contracts we have with our existing clients to discuss what happens in case of a delay or if material prices suddenly spike. By practicing open communication with our clients, we avoid future frustrations. For example, instead of telling our clients that their projects will take longer than expected, we give them as much information as possible, as early as possible, to help them remain in the loop.
6. Follow All Regulations
When a contractor takes on a commercial renovation, they have to know the relevant regulations governing their project. If they don't follow regulations, projects can get shut down, leading to significant time delays and excess costs. Following regulations also helps a contractor reduce the chances of injuries on the job site and improve their team's work quality.
When you choose HR Construction Group, you can expect our entire team to be on the same page when it comes to the regulations governing your project. Our team and any subcontractors we use make it a point to understand what's needed to ensure we're following regulations. As a result, you can expect your project to finish on time without any shutdowns due to noncompliance.
Contact HR Construction Group for Your Next Commercial Construction Project
Working with a successful general contractor that follows regulations, aims for fast turnaround times, and overcomes obstacles with excellence will help you stay open and attract more clients to your business. We've been working in the construction industry all over the country for decades. With this experience, we've had time to sharpen our practices and provide the best level of service to our clients and their projects.
Reach out to us online or call 301-330-1650 to get started on building or redesigning your commercial property.