Jump to:
A professional contractor oversees all the aspects of a commercial renovation project. When you work with someone who has the experience and proper credentials in the construction industry, they manage the project to allow you to focus on your daily tasks and meet your customers' needs. Explore the advantages of working with a general contractor and how you can save time and money in the long run.
What Is a General Contractor and What Do They Do?
A general contractor is the coordinator and supervisor of a building or remodeling project. Their job is to hire, schedule, and oversee the necessary subcontractors, such as electricians, carpenters, and plumbers, for renovating a commercial space. They also obtain the permits you need to make sure all the work and materials are up to code.
There are two types of general contractors in the industry:
– Traditional general contractor: A standard contractor obtains any blueprints or plans you've created with an architect or designer and makes them a reality through high-quality building materials and attention to detail.
– Design-build contractor: A design-build general contractor oversees the designing and constructing aspects of your project. They work with you under one contract to provide design and construction services that conceptualize your ideal renovated space using their building expertise. They're a team under a single contract that unifies the workflow from initial conception through completion. They can also modify the design if you need to make minor changes during the renovation process.
Whether you choose a traditional or design-build contractor, they'll maintain your products' warranties or guarantees by installing each component correctly. Since they care for your building supplies according to the manufacturer's instructions, you can be confident the materials will last a long time. These professionals also handle the whole construction process, including protecting your existing property with drop cloths and cleaning up the work site after they've finished.
What Are the Benefits of Hiring a General Contractor?
Working with general contractors is an excellent idea for your renovation project because of their:
– Connections to vendors and subcontractors: General contractors can get high-quality products and experienced subcontractors because of their relationships in the industry. Subcontractors and vendors respond well to a general contractor because they've most likely worked with them in the past or have been referred to them by previous clients. They'll have the resources and negotiation skills to provide the best workers and materials for your commercial renovation project.
– Flexible project planning: A general contractor's connections with local vendors and subcontractors gives you flexibility in your remodeling design. Since you have access to more materials and experts, you can make minor tweaks to your renovation project as your ideas are successfully completed. When you work with a design-build contractor, you can also have a more customized layout because they can make changes as they go.
– Licensing and insurance: A professional contractor has the necessary credentials to renovate your commercial property. Their license demonstrates they can legally work in your area. Their insurance protects you from financial liability in case of injuries or damage on the worksite. As a result, you can have peace of mind that everything complies with the necessary building codes and that the workers install your building materials with the utmost care in mind.
– Experience in the industry: Your general contractor has completed plenty of other construction projects before starting yours. They're familiar with the factors that could delay a commercial renovation and can navigate them accordingly. They can also make sure the finished space is up to code so you can pass inspection and keep the project moving.
– Single point of contact: A commercial renovation project involves many people working together to bring your ideas to life. When you work with an experienced general contractor, you have one communication point to answer your questions. They'll coordinate with all the subcontractors involved in your project and address any issues that may arise.
– Constant progress updates: Your general contractor oversees your project to let you focus on your other responsibilities. You can still be involved in the design process by checking in with the contractor to ensure everything goes according to plan. The contractor will be honest about the timeline and any unforeseen circumstances that may delay your project. Since they have experience in the industry, they can also navigate these delays to complete the remodeling on time.
What Are the Risks You Take Not Working With General Contractors?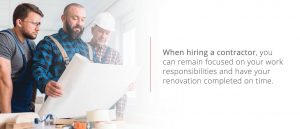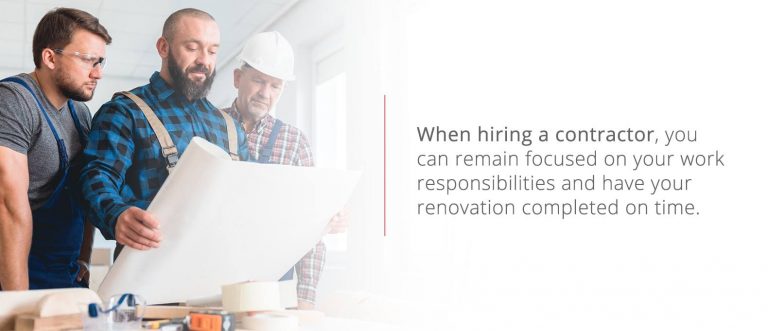 Choosing to take on this project by yourself or hiring an inexperienced contractor can delay your project and add unnecessary costs to your overall budget. You'd also have to be careful that your renovation project is compliant with local and state building codes. Since a contractor has connections in the industry and knows how to navigate unexpected delays, you can remain focused on your work responsibilities and have your renovation completed on time. They can also save you money on future replacements and inspections with high-quality materials.
HR Construction Group is a professional contractor that can help you renovate your commercial space or build a new addition from scratch. When you invest in our general contractor services, you can benefit from the following:
– Time savings: Taking on a renovation project yourself or hiring an inexperienced contractor can delay your project and take up extra time when the unexpected occurs. With decades of experience in the commercial construction industry, we'll provide an accurate timeline for your project and ensure we meet our deadline. We know how to handle different circumstances, like bad weather or delays in materials, so you can get back to business as soon as possible.
– Money savings: Some might consider using cheap materials and cutting corners to save money, but doing so may cost more in the long run. When we build or renovate your commercial space, we use high-quality, long-lasting materials. Our attention to detail and familiarity with building codes allows us to install your materials properly and keep them in excellent condition. We'll evaluate your budget and consider the return on investment (ROI) of your renovation to help you save money overall.
– Specific services for your industry: An inexperienced contractor might not be familiar with design elements and methods unique to your commercial industry. At HR Construction Group, we have experience renovating properties in various sectors, including hotels, resorts, multifamily properties, restaurants, historic and older buildings, and retail properties. We know what standards your company has to meet, and we'll help you stand out among the competition and attract your target audience.
– High-quality results: You may be an expert in your field, but it takes years of experience to learn how to renovate a commercial space; especially in older and historic properties. With our ability to work quickly and efficiently, we can bring your renovation concepts to fruition. Explore our featured projects to see our previous work and get ideas for designing your commercial space.
– Guidance during the whole renovation project: You may have to hire an architect or designer to help you develop a plan for your renovation project. As a design-build contractor, we'll help you develop design ideas to meet your customers' needs and add value to your commercial property. We can also accommodate any plans you already have from an architect or designer. We can make minor adjustments to your property's design as new opportunities arise.
Contact Us for Your General Contracting Needs
Trust HR Construction Group to oversee and carry out your commercial property's next design-build renovation project. We offer construction services for businesses all over the country. To find out more about our general contractor services, contact us online or call 301-330-1650 today.