Jump to:
Almost every restaurant owner needs to consider if their building could use an upgrade eventually. When you look around your restaurant and take in all its elements, from its layout to its lighting, are you satisfied with what you see? Is your restaurant comfortable, clean, and attractive? Or could it use some TLC?
If your restaurant hasn't been drawing a new crowd, it might be time to renovate.
What Is a Restaurant Renovation?
A restaurant renovation involves cosmetic changes and improvements to furnishings and appliances. With a renovation, you might start small, for example, and repaint the dining area. You might install new lighting, flooring, and display cases throughout if you envision a more dramatic makeover. Regardless, renovating your restaurant is an opportunity to make it more appealing and comfortable to customers and staff.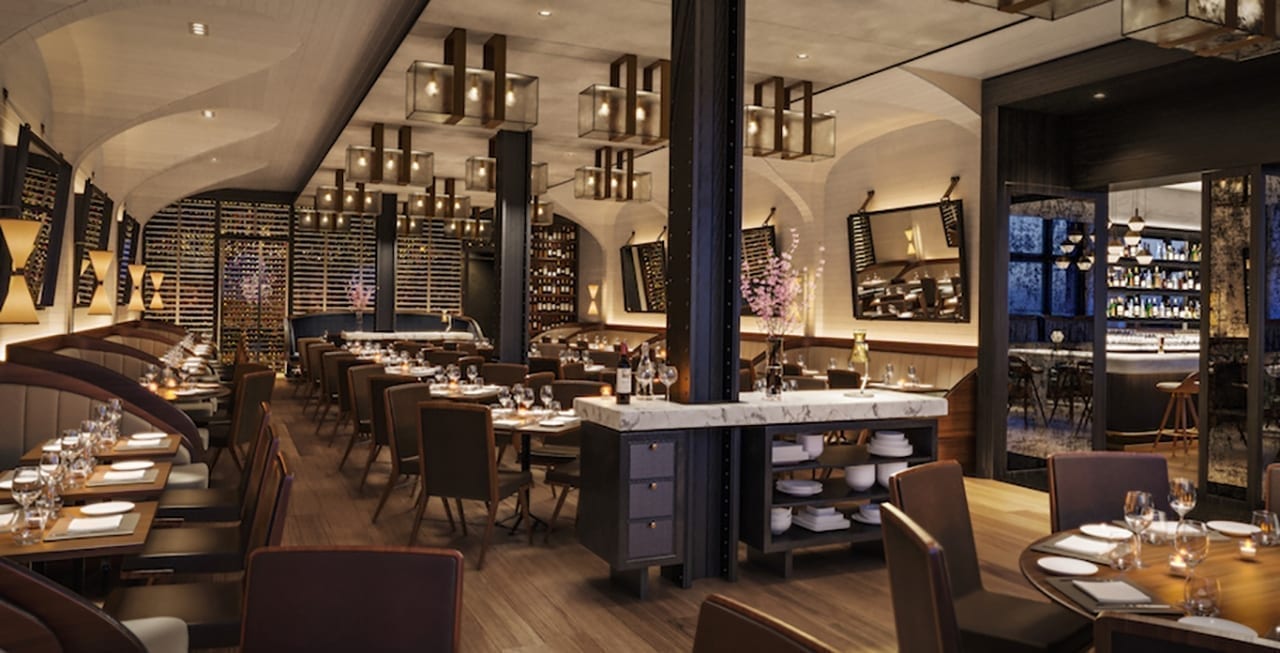 How's It Different Than Remodeling?
Remodeling involves making structural changes to a building and may change a room's function. For instance, if you decided to tear down a wall in the kitchen to expand the dining area, that would be remodeling. Depending on your budget and vision, you may wish to do a mix of renovating and remodeling and give your restaurant a whole new look or function.
When Should You Renovate Your Restaurant?
As a general rule, restaurant owners should consider renovating their establishment at least every five years to keep up with competitors and attract new customers. That doesn't mean you should wait five years to update your look, though, especially if any of the following apply:
The layout isn't working: Your restaurant's layout is critical because it impacts how easily and comfortably staff and customers use the space. If the design of your restaurant prevents employees from working efficiently or causes customers to wait in long lines, it may be time to renovate or remodel the space.
Your customers want something new: Check out your customers' reviews. Do people mention anything about the furnishings or atmosphere? For example, if a customer says they wish for brighter lighting, others might feel the same way. Listen to your customers' comments and consider how a renovation can address their needs.
There are signs of disrepair: If you notice any signs of disrepair, like chipping paint, torn carpeting, or broken furniture, it's likely time for a change. Every aspect of your restaurant should be in good condition to make a positive impression on new customers and show loyal patrons you care.
What Are the Benefits of a Restaurant Renovation?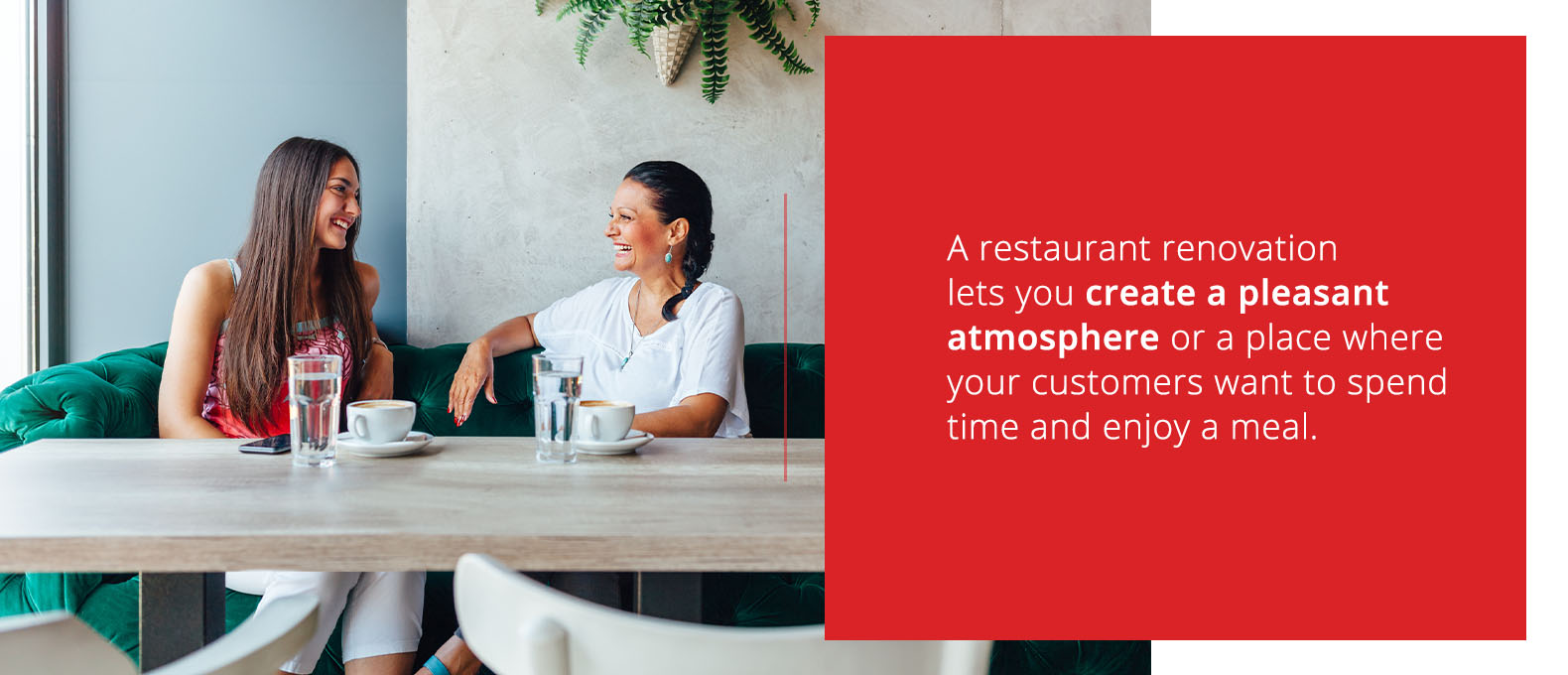 Imagine your favorite restaurant. What are some of its unique features? Does it have cozy seating? Or maybe a jaw-dropping view? Chances are, your top eatery is comfortable and invites you to stay awhile.
A restaurant renovation lets you create a pleasant atmosphere or a place where your customers want to spend time and enjoy a meal.
Overall, reasons to renovate your restaurant include:
Create an enticing atmosphere: You can use various elements, like furniture, decor, lighting, and color, to create an inviting and interesting atmosphere and lure new and existing customers through your front door. A relaxing and attractive setting will also encourage customers to stay longer and spend more.
Improve the layout: By renovating your restaurant's layout, you can ensure enough seating and space for customers and staff to move around. When there's adequate room, customers can also enjoy an open, uncrowded feeling and worry less about catching germs from other diners.
Prioritize cleanliness: As part of your renovation, you might replace worn appliances, furniture, or decor with sleek, easy-to-clean materials. A restaurant that looks, feels, and smells clean will help you stay on trend and show customers you care about their health, encouraging them to return. According to a Deloitte report, 33% of restaurant customers say they are more apt to dine out more frequently with greater cleanliness and safety.
Beat your competition: In 2021, there were over 600,000 food and drink establishments in the United States. The restaurant industry is highly competitive, so it's critical to stand out. Renovating your restaurant can generate excitement in your community and help you set yourself apart.
Increase sales: If you renovate your restaurant and make it more appealing, you can expect to see more sales. Experienced interior designers claim that a minor restaurant renovation can increase sales by 10%, while a large renovation might boost profits by 50 percent. So, if you're worried a renovation doesn't fit into your budget, consider the long-term financial benefits before crossing it off.
What Do You Need to Consider?
A successful and effective renovation requires planning and careful consideration. Be sure to consider the following during the planning stage:
Budget: Before you can renovate your restaurant, you'll need to know how much you can spend. You can use your budget to guide all of the decisions you make. Consider aspects like your current profits and expenses, whether you're eligible for a loan if needed, and how the renovation will impact sales temporarily. Make room in your budget for closing the restaurant during the renovation if required.
Goals: Know the reason for the renovation and what you hope to accomplish. For example, do you wish to appeal to a younger crowd? Or do you need to take care of issues like a crowded layout? When determining your goals, consider the highest priority issues that a renovation can resolve.
Customers and staff: Your customers and staff should stay informed about the renovation from start to finish. That way, they'll know what to expect and prepare for any temporary inconveniences. You can also get staff and customers excited about the transformation.
What Time of Year Should You Plan to Renovate or Remodel?
The best time of year to renovate or remodel your restaurant is during its slow season. For example, if your restaurant is located in a summer tourist destination, you'll likely want to renovate during the winter, when business tends to slow down.
If your business does not experience a slow season, consider whether the work can be done at night or when your restaurant closes.
Restaurant Renovations by HR Construction Group
After you decide to renovate your restaurant, you're ready for the next step — contacting a restaurant remodeling contractor with experience, like HR Construction Group. HR Construction Group is a commercial renovation company and a complete solution to your renovation and remodeling needs. We're eager to help bring your vision to life, whether you manage an upscale hotel restaurant or a local sandwich shop.
Some projects we're most proud of include:
RARE Steakhouse and Tavern: Located in Washington, D.C., RARE is a fine-dining restaurant we're proud to have helped transform. From adding a grand staircase with an antique finish to creating wall-to-wall millwork, we helped turn this once-empty building into a stunning restaurant.
The Carlyle: The Carlye is a luxurious hotel located in New York City's Upper East Side. We completely renovated The Carlyle's kitchen, paying close attention to everything from the lighting to the plumbing.
Park Hyatt: The Park Hyatt is an elegant hotel in Washington D.C.'s West End neighborhood. Here we created the hotel's trademark, Michelin Star restaurant — the Blue Duck Tavern — as well as renovated guest rooms and public spaces.
Contact HR Construction Group to Transform Your Restaurant
If you're ready to give your restaurant a new look and attract more guests, give us a call. Whether you wish to renovate a historic property or update your restaurant with minimal disturbances, we're here for you. Fill out our contact form online to learn more about our commercial renovation services, or call us at (301) 330-1650.