Jump to:
Deciding whether to buy and renovate a property or build a new one is an important choice when expanding your hospitality business. Building a new hotel and renovating an existing property involve different times, costs, and sustainability considerations. Each investment also brings unique risks and benefits.
Thoroughly examining the pros and cons of a new build versus a hotel renovation venture is crucial when deciding where to invest. You must understand each project's cost basis, timeline, sustainability, and projected income.
Pros of Building New
A recent trend report from Lodging Econometrics predicts that hotel supply in the United States will rise by just 1.6% due to new construction in 2023. However, a few pros of new hotel construction could motivate property owners to build:
1. Markets With High Leisure Demand May Be Profitable
A hotel's location is a prominent factor in its success, and certain regions are likely to bring in more revenue than others. Buying sites and building hotels in leisure travel destinations like beach fronts, amusement park destinations, national park areas, leisure event locations, and ocean coastlines are likely to be profitable.
2. More Flexibility to Cater to Travelers
New hotel construction also gives you more input and flexibility in designing a hotel that meets travelers' needs. With a new hotel construction, you and your construction team can design rooms, products, and amenities that address your guests' preferences without considering existing conditions.
With an expected rise in leisure travel during 2023, the hospitality sector will likely see more demand for on-site leisure activities and amenities than meeting rooms and other business-focused services.
Cons of Building New
While building a new hotel has benefits, the process also has a few cons:
1. High Cost of Supplies and Land
The current cost of building supplies is a significant deterrent to new hotel construction. Many materials essential to construction, like cement and gypsum products, saw double-digit increases in September 2022 from the year before. In fact, the price per index (PPI) for the gypsum industry remains at record highs, as does the global price of aluminum. Although lumber prices have dropped closer to July 2020 levels, they are still higher than 2018 prices.
These price fluctuations make it extremely costly to build new hotels in the current market. While some experts predict the cost of construction materials will stabilize by mid-2023, these prices are impacted by world events, and many will likely remain volatile. The amount of time a new hotel construction takes also leaves more time for prices to spike again, influencing some developers to turn to mezzanine loans to help cover rising costs.
The rising cost of purchasing a plot for a new hotel construction adds to the cost of construction materials. The United States Department of Agriculture's August 2022 Land Values report showed that cropland values are up 14.3% from 2021, while pasture value is up 11.5%. Land in urban areas is typically costlier than land in rural areas. These increases make new hotel construction more expensive to finance.
2. Banks Recoiling From Construction Loans
The higher cost of building supplies and rising interest rates drives the demand for higher construction loans. Entrepreneurs in the hospitality sector must finance their building projects through loans and joint ventures, and the high cost of materials represents a greater risk to banks. Lenders may be more cautious about financing new construction when the cost of materials is so volatile.
A bank's reluctance to provide financing for a new hotel construction could pose significant hurdles for developers looking to get the funds and drag out the construction process further. The cost of building materials also affects term sheets, as hotel owners may need to borrow more money as prices fluctuate. Banks that don't have a reliable term sheet may recoil from approving a loan.
3. Longer Project Timeline
New hotel construction projects also generally have a longer timeline than renovations. Renovations may be able to work with the existing structure and make purely aesthetic or mechanical upgrades, like updating electrical or plumbing systems to meet current standards. By contrast, a new hotel requires developers to go through every step of the construction process, from design to zoning and permitting, site preparation, the construction itself, and the final walk-through.
The additional steps new construction generally takes could make a project take a couple of years, whereas a hotel renovation may only take a few months. While this timeline depends on the project's goals and any setbacks that occur, building a new hotel generally takes months longer than renovating an existing structure.
Pros of Buying and Renovating
Purchasing an existing property for renovation might be more financially attractive and more sustainable than buying a site and building a new hotel from scratch. The most sustainable construction project is an existing building. According to Lodging Econometrics, hotel project conversions are experiencing a 59% year-over-year increase. Some of the pros of buying and renovating a hotel could explain its rising popularity:
1. Faster Completion
The time a construction or renovation project takes to complete depends on the project's goals. However, converting an existing property into a hotel could save you the steps of site prep, foundation installation, administrative work, and approvals. You'll also likely spend less time on the design stage since the building's infrastructure is already largely completed. That means you'll be able to begin the renovation process sooner and begin to profit from your investment faster than you would for new construction.
2. Lower-Cost Projects
You may also save money on a hotel renovation if the price of acquiring the property plus the renovation cost is lower than the cost of new construction. A renovation makes it possible to cut the costs of preparing the site, installing the foundation, insulation, and drywall, adding all-new plumbing and HVAC systems, and the other expenses of building a new hotel. With construction costs currently high, renovating an existing hotel may be considerably less expensive.
A renovation may also begin to earn revenue several months or years sooner than new construction as long as the property has a positive cash flow. A faster time to completion and lower project cost could enable you to realize greater returns on your hotel renovation sooner.
3. Better Forecasting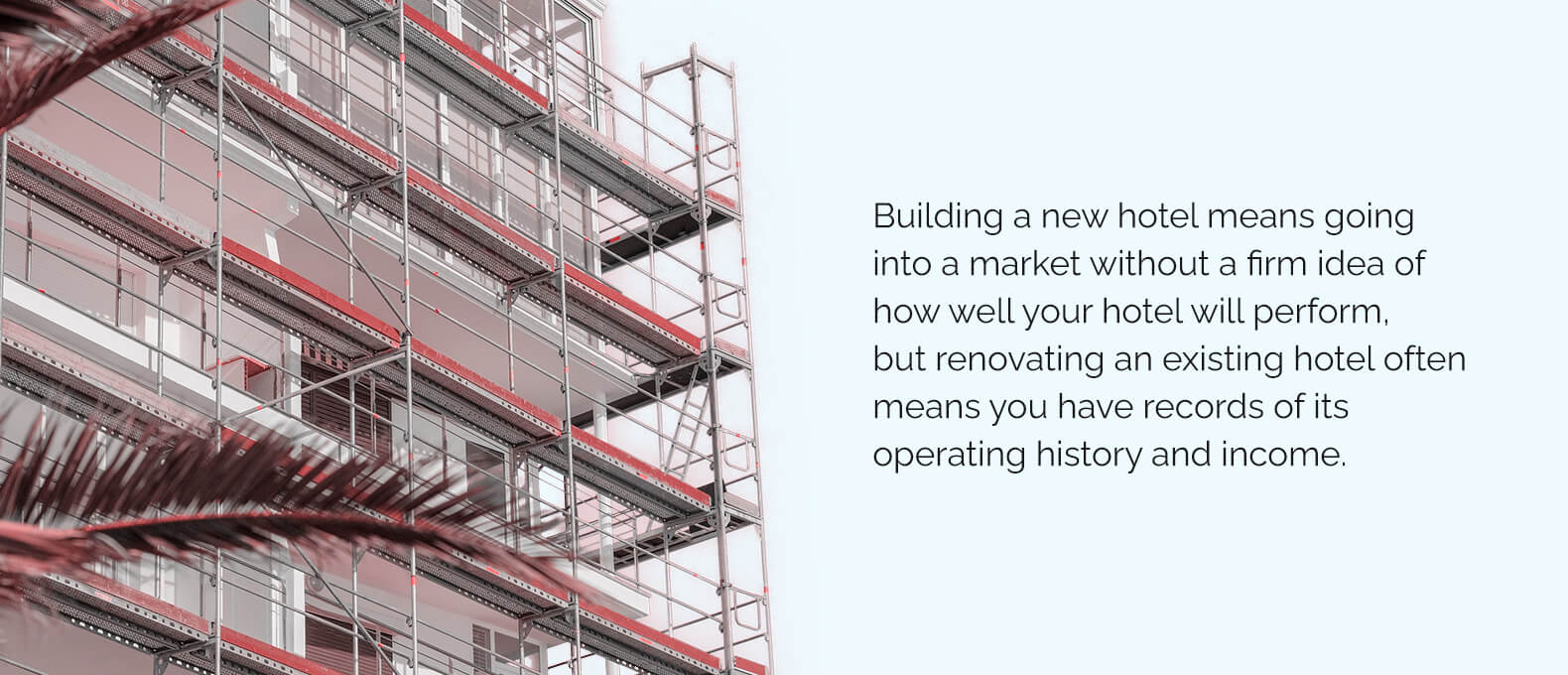 Building a new hotel requires a high amount of market research without a history of how well your hotel is expected to perform in the future. On the contrary, renovating an existing hotel often means you have a pipeline of its operating history and income. You can decide whether the property is a worthwhile investment based on its past performance in the area.
Cons of Buying and Renovating
Consider some of the cons of buying and renovating an existing property for your hotel:
1. Less Input on Design
Depending on your hospitality business' brand and renovation budget, you may have fewer opportunities to change the property to suit your branding and building design. However, renovations still provide builders with great flexibility when redesigning a space.
For example, exterior hotel renovations, like a new facade, landscaping, and roof lounge, can improve your hotel's design and make it inviting for guests. Collaborating with a full-service general contractor for renovations can help you achieve the intricacy and high quality you want for your property.
2. Older Systems Might Require Extensive Renovation
Renovations of older and historic buildings are prone to challenges with delicate repairs. Older buildings may have outdated plumbing, electrical, and HVAC systems that are complex to replace. Older buildings could also be behind on building codes and lack essential safety features.
When planning a renovation of an older building for your new hotel, it's beneficial to work with a general contracting company with extensive experience renovating older buildings. An experienced team can anticipate and plan for the challenges you might face with a renovation.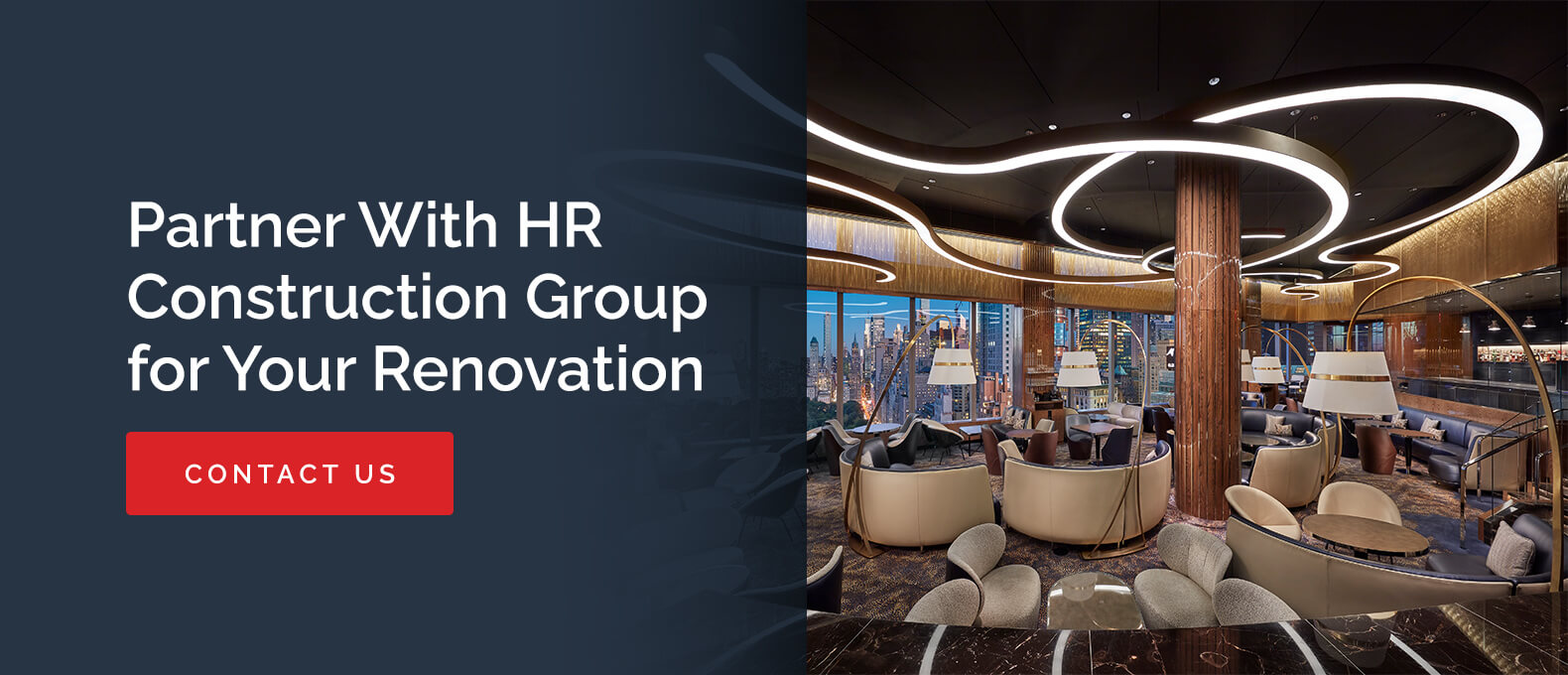 Partner With HR Construction Group for Your Renovation
If you plan to buy and renovate a hotel, HR Construction Group is here to help. We are a full-service general contractor performing construction services nationwide. Our exceptional record in providing hospitality construction and renovation services enables us to create minimal disturbances, provide low-risk estimations, offer sustainable construction practices, and deliver high-quality work wherever our customers need it.
Customer satisfaction is paramount, which is why we are fully committed to developing and providing quality results with individualized care. Contact us to learn more about our renovation, conversions, adaptive reuse, and mechanical upgrade services.