Jump to:
As commercial buildings age, they eventually need renovations or demolition. Though many believe new construction offers more advantages over historic buildings, we know older structures have a lot to offer, including the potential for converting them to suit other commercial purposes, such as hospitality or office space. Renovating an old building can be more sustainable and save you money, effort, and time while keeping the antique vibe.
Renovation of historic buildings ensures the owner can keep the original aesthetic and construction while giving the building a new purpose. No matter your needs, HR Construction Group can renovate or convert your old commercial building and bring it forward in time.
Typical Problems With Older Buildings
A building's age isn't the only qualification for achieving historic status. For example, not every old building is significant to national or local history or exemplifies a remarkable architectural style.
If the building marks a specific historical period or is otherwise meaningful, it may be worth converting while keeping as much of the original structure as possible. Historic buildings may qualify for signage such as a plaque. The building's special status may also be a note included in the real estate agreement or the point-of-sale inspection.
However, historic buildings do age, exposing the need for repairs or renovations. When a building has gone unused, has weather damage, or fallen into disrepair, these common problems make renovations more challenging. Here are just a few repair items we face with older commercial buildings:
– Leaks: Leaks are a typical issue that requires rapid intervention to avoid further damage, especially if the leak is coming from the ceiling or roof. Roofs need frequent inspections to make minor leaks part of regular maintenance instead of an emergency repair. If consistent issues are present, it may be time to get a roof sealed or even replaced.
– Pests: Though any commercial property can be attractive to pests, those with food products can be especially vulnerable. Even if you have a seemingly small pest problem, deal with it immediately to make sure drywall and wiring damage do not occur. If pest repellent and traps don't get the job done, it may be time to call an exterminator.
– Costs: Older buildings can also come with high costs for maintenance, outdated systems, and insufficient energy usage.
– Cracks: Cracking may seem like a small problem, but it can indicate a significant underlying issue with a sense of urgency to address. Cracks in the foundation may even be a warning sign of structural concerns. At HR Construction Group, we can examine any cracks, patch them, and ensure the building is structurally sound.
– Security problems: Older buildings can be more at risk for breaches. To prevent or address security issues, we can implement measures like installing high-quality locks and camera systems.
– Electrical faults: Electrical malfunctions, frequent power outages, and dead outlets can be hallmarks of extensive electrical damage. Addressing electrical faults as quickly as possible is essential to prevent further inconveniences. While changing the lightbulbs may resolve some of the issues, other problems might require a complete electrical overhaul.
– Poor ventilation: Another common problem with older commercial buildings is poor ventilation. This issue can be challenging to correct, but HR Construction Group has the tools and experience to add materials that can improve airflow in your commercial property.
– Code violations: As the years go by, laws and codes may change, making older buildings vulnerable to code violations. At HR Construction Group, we can bring your building up to par with all relevant codes.
– Excess moisture: Excess moisture can come from leaks, water damage, humidity, and even improper temperature control. Keeping damage from excess moisture under control is essential to avoid impacting the structure. HR Construction Group can inspect any damage from excess moisture and keep dehumidifiers and temperature controls on the appropriate setting to avoid too much humidity. We can also install proper insulation and waterproofing.
HR Construction Group has experience with renovating old buildings and can correct these common problems during construction while striving to retain the original build.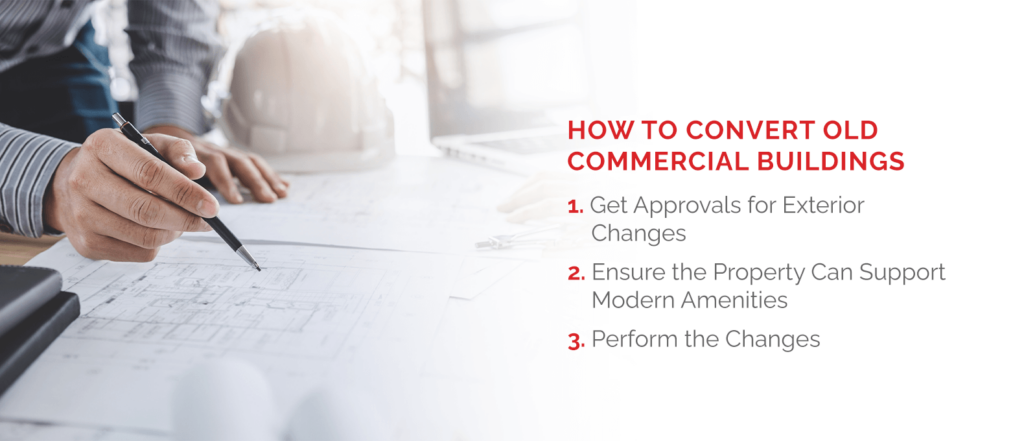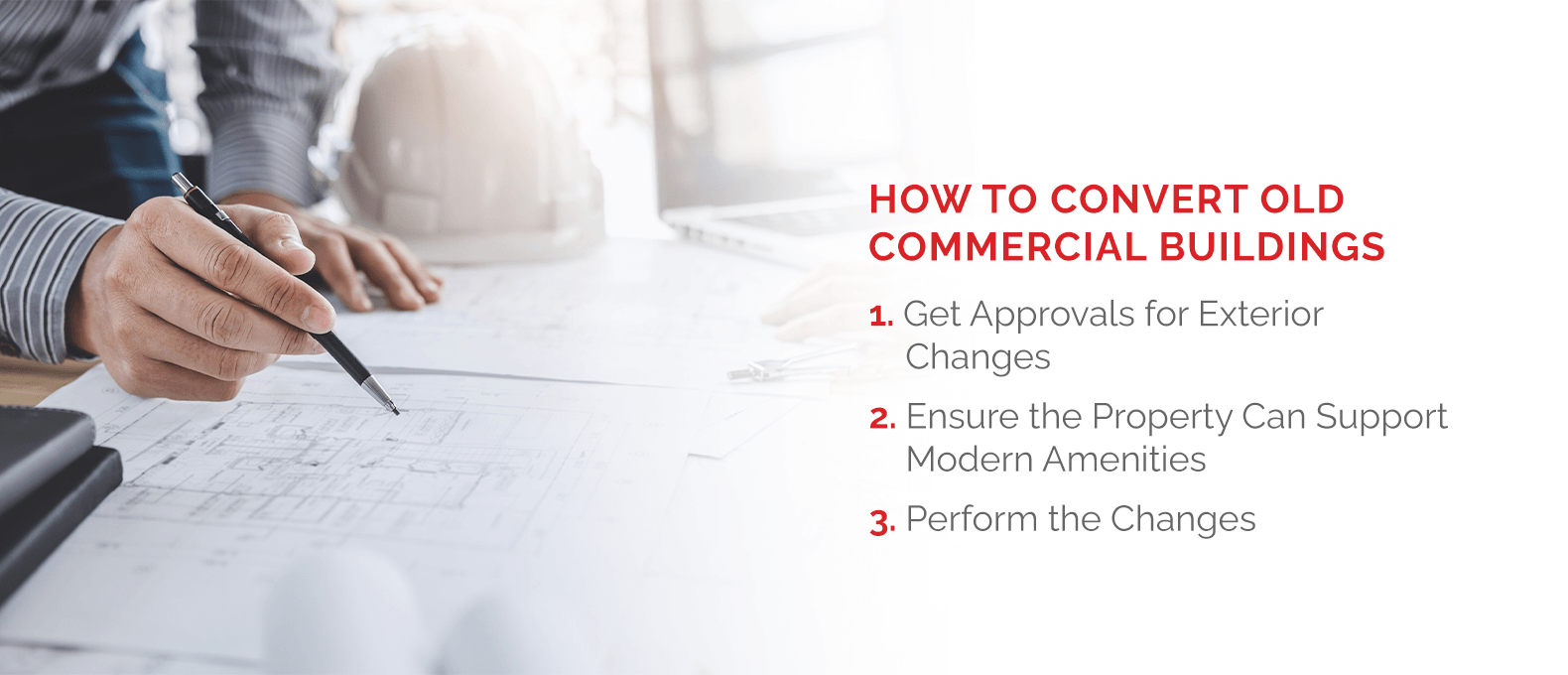 How to Convert Old Commercial Buildings
At HR Construction Group, we can renovate old commercial buildings by converting them into hotels, office spaces, or apartments. After you hire us for your contracting needs, we will follow the steps below to change your building into your desired commercial property.
1. Get Approvals for Exterior Changes
Before you make any changes to the building, we will submit the proposed work plans to a design review board for approval. Our goal is to avoid compromising the building's architectural style by using identical or similar materials to replace things like siding and windows.
If you want to make additions to the property, you may need to limit your efforts to the back of the building to avoid hiding or compromising the original structure. We will ensure your property meets building codes and disability access requirements.
2. Ensure the Property Can Support Modern Amenities
Sometimes, historic buildings have complications that impact their integrity. When updating one of these, it's best to repair and retain as much of the original build as possible. However, you may find you want or need to add amenities. Before making changes, we will ensure the property can support the modern amenities you want to include.
3. Perform the Changes
After getting approval to continue with the project, we will get to work. We'll make repairs before replacing, use materials that most closely match the original material and build, and maintain the building while preventing harm to the structure. We will aim to keep the original character and address building regulations and codes.
No matter what you want to convert your old commercial building into, HR Construction Group can offer the construction services you need.
Contact HR Construction Group About Renovating Old Buildings
As a historic building general contractor, HR Construction Group delivers construction solutions across the nation. Our commercial construction services are excellent for multifamily, hospitality, boutique and local restaurants, and everything in between. Though our headquarters is in Maryland, our coast-to-coast experience ensures we will abide by all the local building codes associated with building features, noise levels, and heating and cooling.
Our skilled, trustworthy staff can also customize our processes according to your priorities and objectives. We can handle an old building's renovation and conversion into restaurants, hotels, and apartment buildings. Contact us at HR Construction Group today to learn more about our historic building renovation services.