Jump to:
The exterior of your hotel is the most important factor in creating a great first impression of your establishment's quality and style. An attractive, well-designed exterior can welcome guests and improve their satisfaction.
How the Right Exterior Renovation Can Welcome Guests
Businesses in the hospitality sector need to be attractive and welcoming places. The first thing your guests will see is the outside of your building, so if you haven't had an exterior renovation in a few years, it's time to get started!
Your hotel needs to have an exterior that creates interest and an appearance of cleanliness and style. A revitalized, unique exterior with no signs of damage demonstrates how much you care about guest satisfaction. The right exterior renovation can also help your business stand out and invite more customers.
Curb Appeal
Curb appeal affects how potential customers view your business. An attractive curb appeal will make your business look clean, modern, and stylish to people driving by and people searching for hotels online. When people are comparing hotels, the main thing they will see is the exterior of your building. That means an attractive exterior may be the only way to attract guests that are just skimming for a place to stay.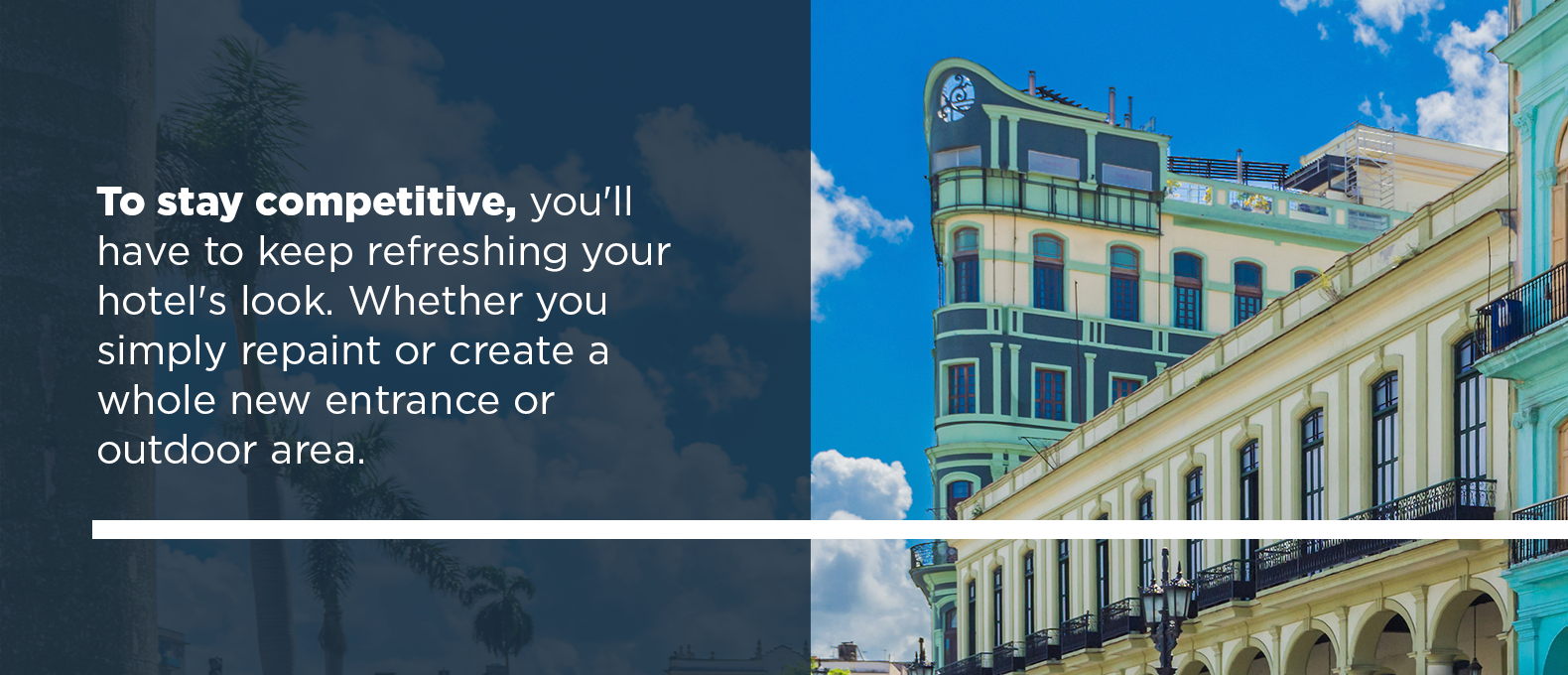 Competitive Advantage
New hotels are popping up everywhere with a brand new look and clean, modern rooms. To stay competitive, you'll have to keep refreshing your hotel's look. Whether you simply repaint or create a whole new entrance or outdoor area, an exterior renovation is a great way to compete with other hotels in your area. To maintain your competitive advantage, you need something other hotels don't have. This could be something physical, like a rooftop lounge, or an idea, like how clean and perfectly maintained your hotel is.
Why Structural Details Matter
Structural details create eye-catching points of interest. But any structural addition or change to your hotel needs to be done with care, as the structural design is important in keeping your hotel and guests safe.
Work with skilled construction experts who understand requirements for structural safety. Planning renovations carefully will give you structurally sound results that are also aesthetically pleasing.
Exterior Hotel Renovation Ideas
When it comes time to renovate your hotel, you'll have many choices to consider. Evaluate different potential changes to find the renovation your hotel will benefit from the most. If you have any areas with damage, be sure to focus on those first.
1. Attractive Facade
The exterior of your building should be eye-catching but also complement the surrounding area. Your brand image should be apparent in the colors and architectural details of your building. Redoing your brand style? Remember to update your exterior to match.
Other hotel facade tips include:
– Repaint the exterior regularly to maintain a clean look.
– Add textures, such as stonework, metal, or wood.
– Make sure you have plenty of visible signage or your brand logo located around the whole building
2. New and Improved Entrance
The entrance to your hotel is the first point of contact you have with your guests. It should appear welcoming and encourage people to visit your hotel.
A sheltered hotel entrance renovation is a great way to improve your exterior. Guests will often be waiting outside, and you can increase their comfort and protect them from rain, sun, and cold. A sheltered entrance can also add structural intrigue and enhance your aesthetic. The entrance should lead into a clean, attractive, and inviting lobby.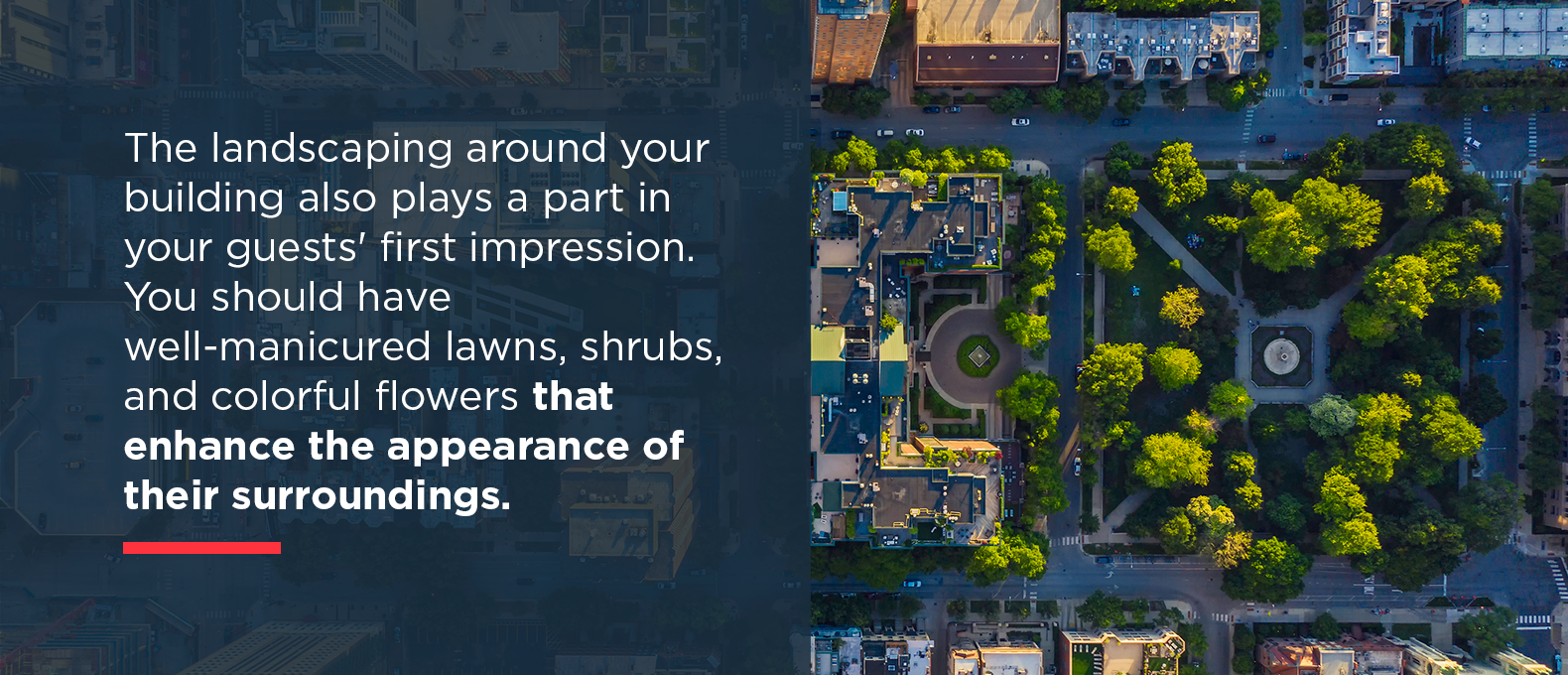 3. Landscaping
The landscaping around your building also plays a part in your guests' first impression. You should have well-manicured lawns, shrubs, and colorful flowers that enhance the appearance of their surroundings. Whatever landscaping elements you choose, make sure they are regularly maintained. In-season and thriving plants display your dedication to your hotel's maintenance and appearance.
4. Decks, Balconies, and Walkways
Your exterior renovation can also include adding or updating decks, balconies, and walkways. People often come to hotels to relax, so having comfortable and attractive outdoor areas is a major benefit. You can add private balconies to certain rooms or have decks that all guests can enjoy. Your outdoor walkways will also be crucial if you have different areas outside that people will be walking to. Add path lights to create safer walkways.
5. Roof Lounge
Adding a rooftop lounge adds a new recreational area your guests get to experience and enjoy. If it's time to update your roof, why not make it a brand new outdoor addition to the hotel? Add a rooftop garden, pool, bar, or lounge area to maximize your use of space. Sustainable gardens or green roofs can attract more eco-friendly customers and provide guests with an experience they may not be able to get at other hotels.
Structural details are particularly important for rooftop areas. Ensure you acquire the necessary permits and meet safety requirements for areas on the roof guests will enjoy.
6. Updated Parking Lot
If your parking lot has potholes, cracks, or oil stains, it may be time to repave it or at least fill in any major damage. Your parking lot is one of the first things your guests will experience, and you want to make a good first impression. Add plenty of lighting so people feel safe walking into the hotel at night, and ensure pavement markings for parking spots and directions are visible.
7. Swimming Pool
Hotel guests want to see a clean, well-maintained pool that looks safe to swim in. Check for any structural damage around the pool area to determine if you will need to renovate the pool for safety reasons. You can also renovate the area around the pool to increase guest satisfaction. Add amenities such as stylish, non-slip decking, pool chairs, covered seating areas, or even a water slide.
Choose HR Construction Group for Exterior and Interior Renovations
Exterior renovations are a great way to gain an influx of new and returning customers that are attracted to your new curb appeal. If your hotel is starting to lag behind, it may simply lack the appeal of the new and newly renovated hotels nearby. Renovating the hotel's facade, entrance, parking lot, and landscaping gives your hotel a new and clean look. Adding extra amenities, such as a balcony, rooftop lounge, or swimming pool, gives your guests another reason to choose your hotel.
As a hotel owner, you want to create a space that invites people in and keeps them coming back again and again. When it's time to complete your renovations, you'll need to choose an exterior renovation contractor. HR Construction Group serves the entire United States and can complete exterior and interior renovations for your hotel, no matter how old it may be! We are experts in renovating old or historic properties and are happy to take on challenging projects.
If you find that your hotel has any of these warning signs, it's definitely time to renovate your hotel. Contact us today to learn more about our exterior remodeling services.