Designing a Hotel for Multigenerational Travelers
Everyone knows about family vacations — you round up the kids and pick a fun and exciting destination, like Disney World. But maybe you want to include your parents, siblings, and nieces and nephews in your vacation. When you travel with three or more generations in your family, it becomes a multigenerational vacation.
In 2022, 47% of survey respondents said they were planning for a multigenerational trip within 12 months. Many families choose to make their multigenerational vacations last a week or more, increasing the appeal of extended stay hotels for them. Learn more about extended stay hotels and other ways your hotel can accommodate multigenerational travel.
9 Multigenerational Family Hotel Trends
Since family vacations are turning into multigenerational trips, hotels must accommodate people of all ages. Here are nine hotel design trends you can incorporate to accommodate the growing multigenerational vacation trend.
1. Extended Stay Amenities
Extended stay hotels offer amenities to increase guests' comfort during a more extended stay. They typically offer discounted rates, making them a more cost-effective alternative to renting a house, apartment, or condo. Their rooms try to replicate the welcoming warmth and familiarity of someone's home by including room amenities like:
– In-suite kitchens
– Multiple bedrooms
– Private patios
– More square footage
– Continental breakfasts
– WiFi
– TVs with streaming apps
– Closets
– Printers
– Filtered water
– On-site or in-suite laundry centers
– Grocery delivery service
2. Separate Sleeping Areas
Families traveling with multiple generations may begin to feel like they just came back from Thanksgiving dinner after a day's worth of activities and bonding. They may find it uncomfortable to bunk together in one room. But, by providing separate sleeping areas, you can increase the comfort and privacy of your guests. You can offer separate sleeping areas by:
– Having multiple rooms in one suite
– Connecting rooms in different suites
– Including numerous beds in a suite
– Offering cots and sleeping bags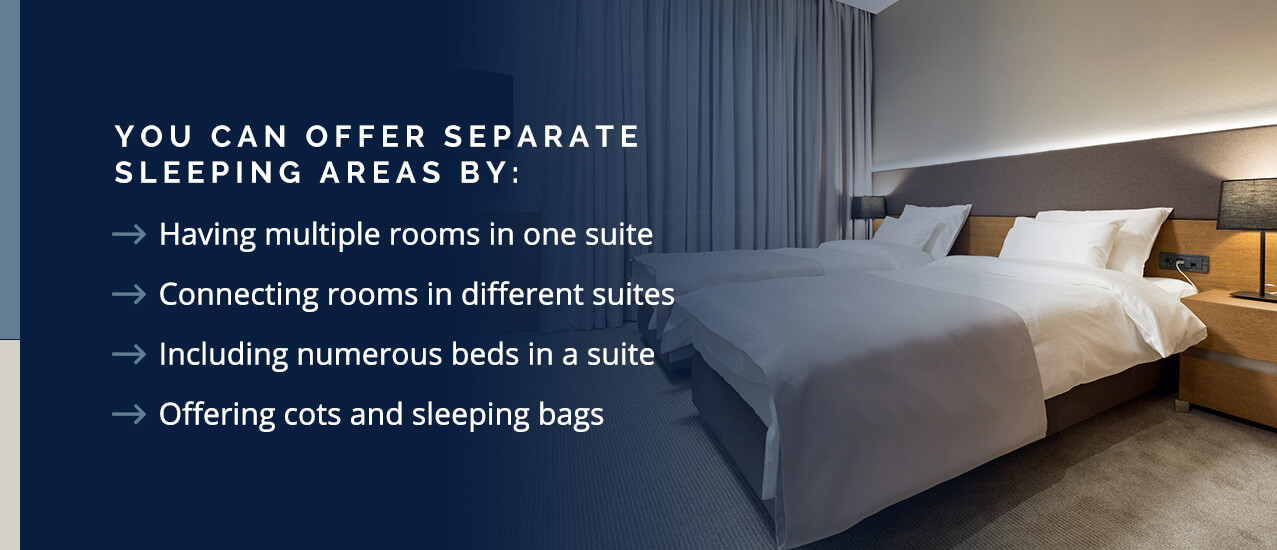 3. Common Areas
Families might prefer to book separate rooms and socialize with each other in a common area. For instance, the family could stay in one large unit with separate bedrooms, a living room, and a kitchen. Another option is for families to book different rooms but bond in the hotel's common areas, like a lounge, dining hall, or pool.
4. Family-Friendly Diverse Amenities
When you are accommodating a group with a wide range of ages, it can be challenging to offer amenities that attract everyone. The best way to appeal to all ages is by providing various activities. You can offer traditional activities like a golf course, spa, pool, and gym, and family activities, such as a game room, discounts on local theme parks and museums, bike rentals, grill access, and a playground.
You can also appeal to families by hosting family or kid events like tea parties. Additionally, you can decorate kid rooms in a fun and exciting theme or style, like space or cartoon characters. Some hotels offer on-site sitters or day camps so parents can enjoy a relaxing evening or day. On-site sitters also give parents the ability to participate in non-kid-friendly activities.
5. Universal Design Elements
Universal design elements make navigating an area easier for guests who use mobility devices. These design elements include low-pile carpets, bathroom grab bars, and wider doorways. Many hotels also offer ramps and large elevators, so it's easier for all guests to access different areas.
6. Multipurpose Furniture
Multigenerational families often travel in large groups with children. If they all stay in the same room, it's vital to accommodate the sleeping and comfort needs of everyone as much as possible. Adding eight beds to a room isn't doable, but you can decorate the room with multipurpose furniture.
Multipurpose furniture saves space and provides greater flexibility. For example, you can accommodate more guests by offering wall or sofa beds. Then, the family can save that space until they need it for sleeping. You can also choose a coffee table that transforms into a dining table. Most people only use dining tables during mealtime, so a transforming coffee table allows them to have a dining table when needed.
7. Technology Integration
Technology plays an essential role in people's everyday lives. Many travelers want to stay connected with the outside world and entertained while on vacation. They can do this by scrolling through social media websites and checking emails and the news. Many hotels offer high-speed internet access, in-room entertainment centers, and charging stations to help guests stay connected. Other ways hotels can integrate technology to improve the comfort and convenience of guests include online check-ins and check-outs, mobile room keys, and smart thermostats.
Another way you can integrate technology to appeal to younger travelers is by having a strong online presence. Suppose the parents and grandparents leave the activity and hotel choices to the older children. In that case, your hotel will appeal to them if you have a website and social media account with pictures and information about your hotel's enticing amenities.
8. Comfort and Convenience
Comfort and convenience are primary aspects of the hospitality industry. You can make your hotel luxurious with plush pillows, extra storage space, high-quality linens, reed diffusers, and welcome kits. The welcome kits can include frequently forgotten items such as:
– Toothbrushes
– Deodorant
– Razors
– Phone chargers
– Toothpaste
– Floss
– Shampoo and conditioner
– Soap
– Sunscreen
– Umbrellas
– First aid kit
– Snacks
– Sunglasses
You can also rent out or offer complimentary kid-friendly items like strollers, pool floats, training potties, and DVDs. By offering frequently forgotten items, you'll please guests who would've been upset about forgetting these necessities.
9. Exterior Renovations
Instead of an indoor lounge, you can offer a rooftop lounge to fascinate your guests. A rooftop lounge is an exterior renovation that can help attract guests. You can add a rooftop garden, pool, bar, or lounge area. Rooftop gardens appeal to eco-friendly customers and provide a unique experience for guests.
Aside from a rooftop lounge, you can also:
– Provide shelter for your hotel entrance.
– Plaster your brand or logo around the building.
– Paint the exterior and add texture.
– Plant colorful flowers.
– Trim your shrubs.
– Mow the lawn.
– Update decks, balconies, and walkways.
– Update the parking lot.
Trust HR Construction Group for Your Interior and Exterior Renovations
Interior and exterior renovations attract new customers to your hotel, including large groups of multigenerational travelers. Renovating your guest rooms and common areas and adding extra amenities like a rooftop lounge or patio allows you to accommodate and appeal to different guests. It also makes your hotel stand out, giving guests another reason to choose it over the competition.
As a member of the hospitality industry, the comfort and satisfaction of your guests is paramount. You want your guests to leave happy so they come back. When renovating your hotel, you need a professional renovation contractor to continue operations smoothly. HR Construction Group is a licensed, full-service contractor that can meet tight deadlines and intricate specifications. We ensure the renovations only inconvenience your guests if necessary.
We also focus on sustainability. Our headquarters went solar to reduce our carbon footprint, and our team utilizes environmentally-friendly construction practices.
HR Construction Group can complete exterior and interior renovations for your hotel anywhere in the United States. Contact us today to learn more about our expert renovation services and our sustainable construction practices.