Jump to:
When you're searching for the right general contractor for a project, you might not know where to start. While you probably have a few commercial general contractors in your area, knowing what to look for to ensure you get the best service possible can be challenging. By asking key questions, you can determine if a general contractor is a good fit for bringing your project vision to life.
Find out more about the most important information you'll need to know about a contractor and the key questions to ask that ensure the contractor meets your needs.
Five Questions to Ask a General Contractor
Instead of picking a commercial renovation contracting company at random from your pool of options, you can narrow them down by asking a few questions to determine their capabilities and expertise. For example, you'll want to know if a general contractor is licensed and has adequate insurance before hiring them.
Review the five main questions to ask a general contractor below:
1. Do You Delegate Tasks to Maximize Efficiency?
As you search for a contractor, one of the most important questions to ask is about how they delegate tasks. A successful general contractor knows they must empower their team of workers and subcontractors by handing over some responsibilities instead of doing everything on their own. When a contractor can delegate tasks to various team members, they'll be much more efficient. They won't have to handle so many tasks on their own or consistently watch over their team to make sure they're doing the job right.
As a result, it's crucial to look for a contractor with a solid, dedicated team that employs trusted subcontractors. If a contractor can walk you through their delegation process, they likely have the knowledge and tools to handle any commercial construction project. Instead of controlling their team members, successful general contractors will entrust their workers and subcontractors to do the job right, allowing the whole crew to work more efficiently.
2. How Well Do You Communicate With Everyone Involved?
A great general contractor will communicate with you throughout the project to ensure you're fully informed. Check if a general contractor will give you a point of contact who will answer your questions and keep you updated on any changes to the project timeline. By having someone who can inform you of potential delays, create a project timeline, and keep you updated on the project's progress, you can better plan for the future and stay involved in your project.
A contractor should also regularly speak with everyone working on the project. Successful general contractors are constantly communicating with the owner and subcontractors they've hired regarding the construction process. An exceptional contractor will often use the latest communication technology to ensure everyone can access the information they need. Overall, a general contractor needs to demonstrate they practice clear communication with workers, as it can help the whole team stay safe and work efficiently.
3. Are You Licensed and Insured?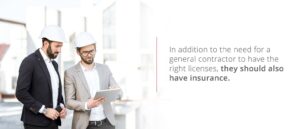 Any reputable commercial general contractor will have the proper licensing required to work legally in their state and on the projects you need. The state a general contractor operates in determines relevant licensing requirements, so you'll want proof the contractor has a license issued by your state.
In addition to the need for a general contractor to have the right licenses, they should also have insurance. Ask about the type of insurance they have to ensure you're protected from financial liability in the event of damage or injuries on your work site. You'll want any contractor you work with to have general liability insurance and workers' compensation insurance, as the first protects property damage and the second covers worker injuries.
4. Can You Give Me a Structured Timeline?
Look for a general contractor that's clear on the timeline and specifications of the commercial project. While unexpected challenges can arise in the course of a project, a general contractor should be able to provide a specific amount of time they believe your project will take. When a general contractor can give you a structured timeline, it's more likely they have the experience and knowledge required to efficiently complete your project.
A structured timeline also helps the contractor stay focused on the project, as they'll have goals to hit to complete the project on time. It also helps you hold the contractor accountable and ensure any delays are warranted. Since challenges can arise, a good contractor will provide a flexible timeline that accounts for potential delays or inclement weather.
5. Do You Finish Projects Quickly and Efficiently?
Another important factor to consider when choosing a contractor is the speed at which they can accurately complete your project. A great general contractor will be quick and efficient, helping your company get back to work as soon as possible. You'll want to check if the contractor knows how to set realistic timelines and get the job done without cutting corners.
As you consider the speed of a general contractor, you can ask them for references from previous clients. With these references, you can discuss how efficient the contractor has been in the past and their ability to work quickly while still delivering exceptional results. By doing your due diligence, you can feel confident a contractor has the expertise to properly perform high-quality work at a fast pace.
Choose HR Construction Group for Your General Contractor Needs
At HR Construction Group, we offer fast-track construction contractor services, meaning we'll get your project finished as fast as possible and effectively delegate tasks to our team and trusted subcontractors. We're also licensed and insured to ensure your business is protected and that we have the needed coverage in the event of an accident. Alongside our insurance and licenses, you can trust us to stay in contact with you before, during, and after a project, keeping you informed throughout the entire process.
We work all across the country. Feel free to call us at 301-330-1650 or reach out to us online so we can start planning and performing general contracting work for your commercial property.