Jump to:
When owning a multifamily building, the question of whether to renovate or not is always looming. Renovation projects used to be thought of as a fresh coat of paint and a new carpet installation. But they've evolved to more straightforward methods that generate an abundance of benefits that just paint and carpet could never mimic.
Apartment building renovations increase market interest for your property along with your tenant's quality of life. The key to choosing how to renovate your property lies in a combination of upgrades that don't have extreme overhead costs but are still substantial improvements. When you plan your renovation project right, you can generate a significant return on your investment that will last for years to come while competing for market share against newer buildings.
Multifamily renovation companies specialize in finding the balance for every client. In the last decade, large multifamily properties were one of the most significant contributors to rental growth.
How Should You Renovate Your Multifamily Building?
Upgrading your building can draw interest from the community and bring in more residents. Consider the renovation ideas below when determining the direction of your project.
1. Make Improvements Inside Your Units
An easy place to begin considering multifamily building renovations is inside each unit itself.
Thinking in traditional renovation terms, you can add luxury to your multifamily renovation through bathroom and kitchen renovations. For example, granite countertops can quickly change the feel of your units, as granite has grown in popularity. Upgraded materials may cost more, but the labor cost is comparable, and the return is higher. Bold colors in rooms, along with unique lighting, can also bring more interest to your property.
Some expectations you'll hear from people during apartment shopping include upgraded appliances, like in-unit washers and dryers, along with dishwashers. Tenant-controlled central air and heating are also expected perks.
The most important mention is high-speed internet access. Offering reliable and speedy internet service is growing increasingly necessary as people choose to work from home, while many companies seek to abandon traditional offices. According to a survey from Comcast in 2017, a large percentage of those surveyed — nearly 90% — believe technology plays a very important or extremely important role in having satisfied apartment residents.
2. Introduce Sustainability Practices
Focusing your attention on the sustainability of your building can generate two types of returns — more people interested in renting and a drop in utility costs. It's difficult to calculate an exact ROI when implementing sustainability practices, but for multifamily homes built when energy-efficient standards weren't in place, it certainly pays to make these changes.
Buyers tend to care about energy efficiency in their homes first and foremost. In fact, it's a common expectation amongst renters that all apartments feature energy-efficient appliances. We recommend making the switch, as well as replacing old light bulbs with long-lasting LED options.
A more intense apartment building renovation would be to improve insulation and install energy-efficient windows, both improving indoor climate and noise reduction.
3. Embrace Strong Tech Infrastructure
Embracing technology in your apartment renovations can go a long way into the future.
Keyless entry or fob entry is a noticeable upgrade to your apartment building and surely grabs the attention of anyone visiting. It enforces safety for your tenants and your complex, as there is no physical key to steal or duplicate.
Your unit value can also increase with the installation of smart home accessories, such as app-enabled heating and air conditioning.
An easy addition to a multifamily building renovation is to include a center for package, postal, and local deliveries. In 2020, Amazon Prime members reported ordering an average of 51 packages a year. On top of that, a third of Americans report having at least one package stolen. Having a multifamily renovation contractor add a package delivery center, especially a locker room, to your property can increase demand for your apartment.
4. Improve Curb Appeal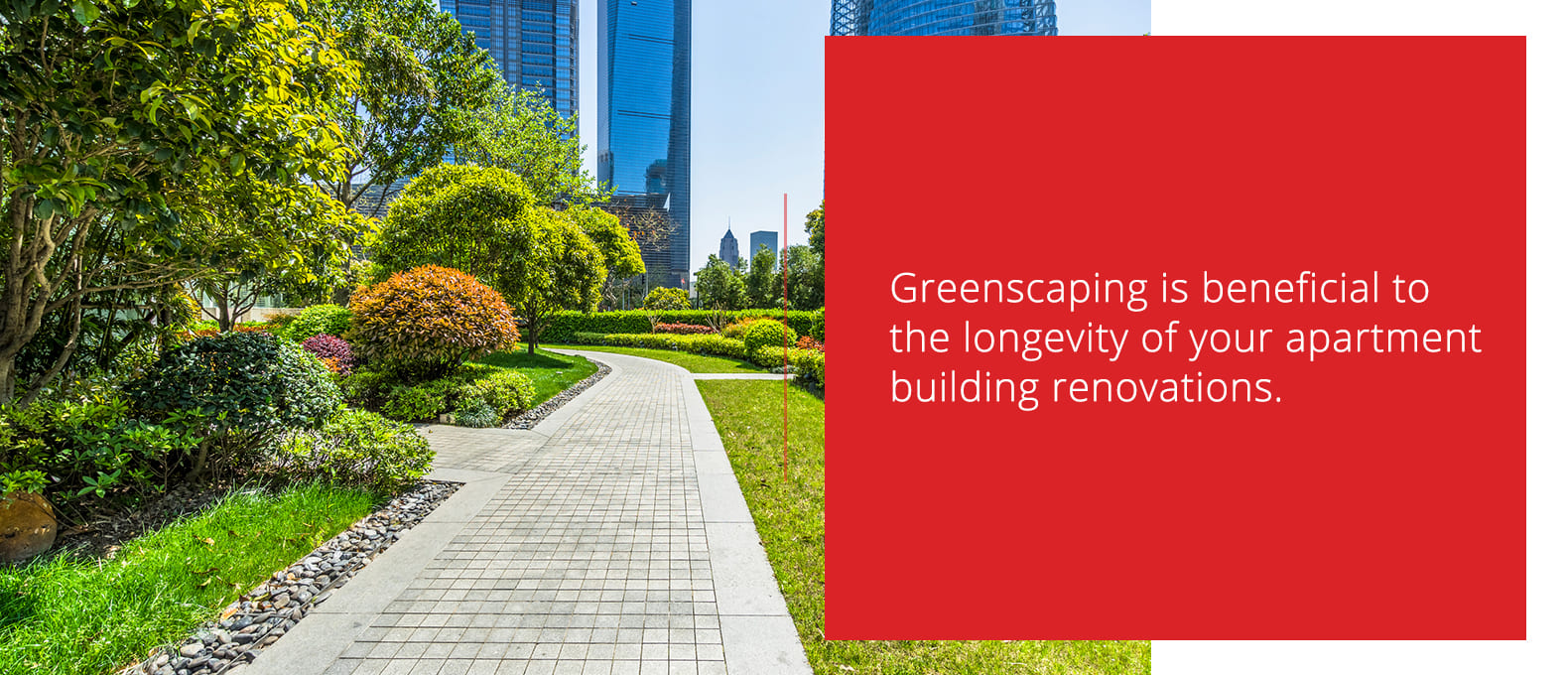 Improving your curb appeal is an easy way to draw tenants to your property without outsized costs.
One of the best ways to showcase your property is through greenscaping, focusing on improving and maximizing your outdoor space through landscaping and green efforts. Greenscaping is beneficial to the longevity of your apartment building remodel, and implementing a sustainable outdoor area can boost the value of your property.
Green spaces also attract more people, especially in urban areas. Adding lighting, privacy fencing, grilling space, and quality furniture provide tenants with a space they can see themselves using.
Updating the exterior of your apartment building can also make your property look more inviting. Millennials are interested in a contemporary look that has become relatively inexpensive for a multifamily renovation contractor to achieve through mediums such as concrete siding, aluminum paneling, and fiber cement board.
Turning Hotels Into Multifamily Properties
The past decade has seen massive growth in multifamily buildings, both in ones built from scratch and ones renovated from old, run-down hotels.
The National Association of Realtors (NAR) released a case study discussing the ever-growing trend of multifamily renovations from hotels. Hotel occupancy drastically dropped to 37% during 2020, as regular travel and business events were canceled due to the COVID-19 pandemic. At the same time, housing demand increased.
Despite the increase in demand for housing, housing completions for both single-family housing and multifamily housing fell below demand.
The unprecedented rental growth in apartment buildings across the country has been met by multifamily renovation companies. Converting hotels to multifamily properties is handled by teams of experts and trusted subcontractors who work on nearly every part of your project.
Take the Next Step
Ultimately, improving your apartment building through renovation projects generates a return, no matter how many aspects you invest in. The more improvements you plan with your multifamily building contractor, the more market interest and value you accrue.
If you decide to convert a hotel to an alternative use, choosing the right partner is key.
Your partner should have experience meeting high quality expectations in a range of projects, from a multi-story high-rise apartment building or a large single condominium. Your contractor should be able to take on interior renovations and additions, exterior facades and structures, lobbies and common areas, back-of-house facilities, and other projects.
During the search for a multifamily renovation company, it's important to find someone who understands your needs. They should be able to provide you with the trust and confidence that your renovation will get done with minimized disruptions and costs. You should have a relationship with your contractor so you can face any unique challenges in your renovation project together.
Build an Experience Worth Repeating With HR Construction Group
At HR Construction Group, we are a fast-track general contractor specializing in commercial renovations, additions, and new construction. Our customer's satisfaction is paramount. Our properties include retail spaces, restaurants, hotels, and multifamily buildings across the U.S. To make a request for proposal (RFP) or learn more about working with us, contact us at HR Construction Group today.