As a hotelier, guest satisfaction is your priority. When you're preparing for a hotel renovation, you must consider their comfort and convenience throughout their stay.
Read on for ways to keep your guests content so they'll return for your hotel's grand reopening once the renovations are complete.
The Importance of Keeping Your Hotel Guests Happy During a Renovation
Renovations may disrupt your guests' convenience, but you should ensure they are always comfortable. Happy guests mean your rooms are booked, and your revenue increases. The opposite also applies. If guests are inconvenienced by noise and other disruptions due to renovations, they may leave or choose another hotel to book at. And even worse, they leave a bad review. Most seek downtime and leisure for the duration of their stay, so you want to help them get as much as possible.
Happy guests will refer your hotel and leave positive reviews on reputable websites, which is helpful for others when deciding on accommodation. By going the extra mile to deliver exceptional customer service, especially during an uncomfortable yet necessary phase like renovations, your guests will be more likely to recommend you based on their experience.
Ensuring your guests remain comfortable despite the work being done will demonstrate your consideration, and they will be excited to see the improvements when they return for their next stay.
Potential Delays and Disruptions During Hotel Renovations
If you plan to renovate your hotel during off-peak season, fewer guests will likely be affected by any potential setbacks or delays. Some delays and disruptions are out of your hands and may include:
Progress delays due to labor or material shortages.
Inadequate project planning and site management supervision.
Delays due to outstanding clearances and permits.
Bad weather that prevents material transport delays.
Holidays that keep construction work from proceeding.
They may not always be in your control, but how you handle delays is important. Keep communicating with guests and have placards around the building to advise of the renovations and apologize for the inconvenience.
Ways to Keep Your Hotel Guests Happy During Renovations
You can set various measures to keep your guests happy while renovating your hotel. Below are considerations that will help you stay on track to ensure your renovations are complete with the least convenience at your guests' expense.
1. Communicate Clearly With Guests
Communication is key when you plan the renovations. Guests must be made aware of your intentions and how it will impact their stay, especially if they've booked in advance. Keep them in the loop by sending updates via email and posting notices on social media channels and your hotel's website. Reassure guests that the necessary arrangements will be in place for those with specific needs, like wheelchair access.
Explain how the renovations are required for their enhanced comfort and quality and that it will benefit both parties in the long term. As with all changes, they are temporary adjustments that aim for minimal disruptions.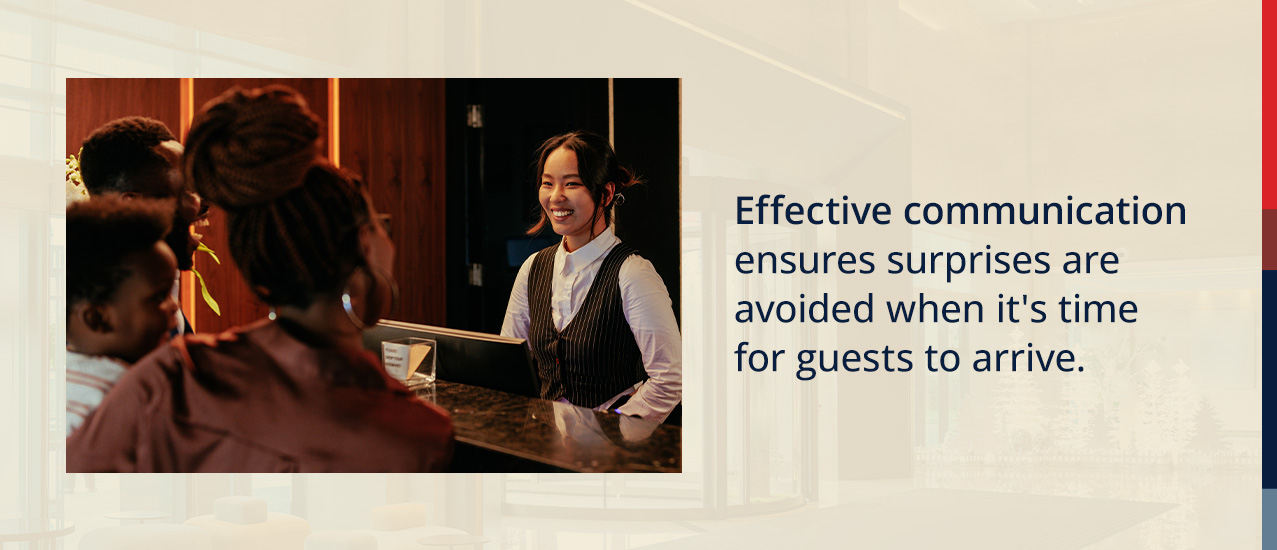 Effective communication ensures surprises are avoided when it's time for guests to arrive. It also creates awareness for prospective guests interested in booking. It's a sign of courtesy and respect for them, which they'll appreciate.
2. Manage Expectations and Comfort
If guests are concerned about how the renovations will impact their stay and consider canceling, explain why it is necessary and that the disruptions should be minimal. Express your gratitude for choosing your hotel and assure them they've made the right choice. If they are still not entirely convinced, consider a few additional strategies that may help change their mind:
Offer discounts on their future bookings so they can see what improvements were made with the renovations.
Arrange for your guests to be picked up at the airport and brought to the hotel.
Offer room upgrades as far from the noise disturbance as possible.
Extend personal invitations to any special events or functions that may be taking place when they're expected to arrive.
Arrange a complimentary meal and drinks upon arrival to welcome them and thank them for their support and understanding.
What you offer and how it is received may depend on a few factors, like whether your guests are new or loyal patrons who are more likely to return. Regardless, if any of these measures are within your budget to apply, it may be worth retaining guests rather than losing them to competitors because of the upgrades.
3. Plan Ahead But Expect Setbacks
Setbacks are normal. Avoid a strict plan that doesn't accommodate hurdles and ensure guests are minimally impacted. If you display flexibility and adaptability, your guests are more likely to empathize with the situation. Always be clear about expected project completion deadlines and communicate delays if they occur.
Notices in the lobby with regular updates help promote visibility and encourage transparency. Desk attendants can answer any questions or concerns guests have and direct them to you or the managers on duty to assist.
4. Isolate Work Areas
Isolate work to one floor or area at a time if possible. Depending on the extent of your renovations and the size of the area, you should work on every alternate floor to minimize noise. If single rooms or sections like the lobby are being renovated that are within full view, confine the times to the least busy, like late mornings and before the afternoon check-in rush.
Work done on floors should be kept between specific hours during the day when guests are likely to be out. Have your staff clean dust and debris in hallways when things are quiet to eliminate the risk of allergies and infections. Remove larger debris frequently using your hotel's waste disposal facility.
5. Avoid Disturbance by Creating a Separate Entrance Space and Bathroom
Converting or creating extra space is easier to achieve in smaller hotels, like a separate entrance to gain access and an additional bathroom. These can be added as temporary alternatives if the renovations are being done on a large scale and obstruct the usual entrance.
The hallway can be demarcated with navigational arrow signs to direct guests to the alternative entrance. This reduces confusion, and guests will appreciate your efforts to avoid disturbance and increase their convenience during their stay.
6. Hire an Experienced Contractor
The contractor you choose is pivotal in executing the renovations quickly and with the least disruptions and delays. Carefully consider all aspects of your budget, planning, and project finalization, and discuss your requirements in detail. A reputable, experienced contractor will involve you in every decision and step toward realizing your renovation goals.
Having the option to fast-track construction will ensure the renovations are done quickly and efficiently, saving you time and shortening the disruption period for guests.
Choose HR Construction Group for Your Hotel Renovations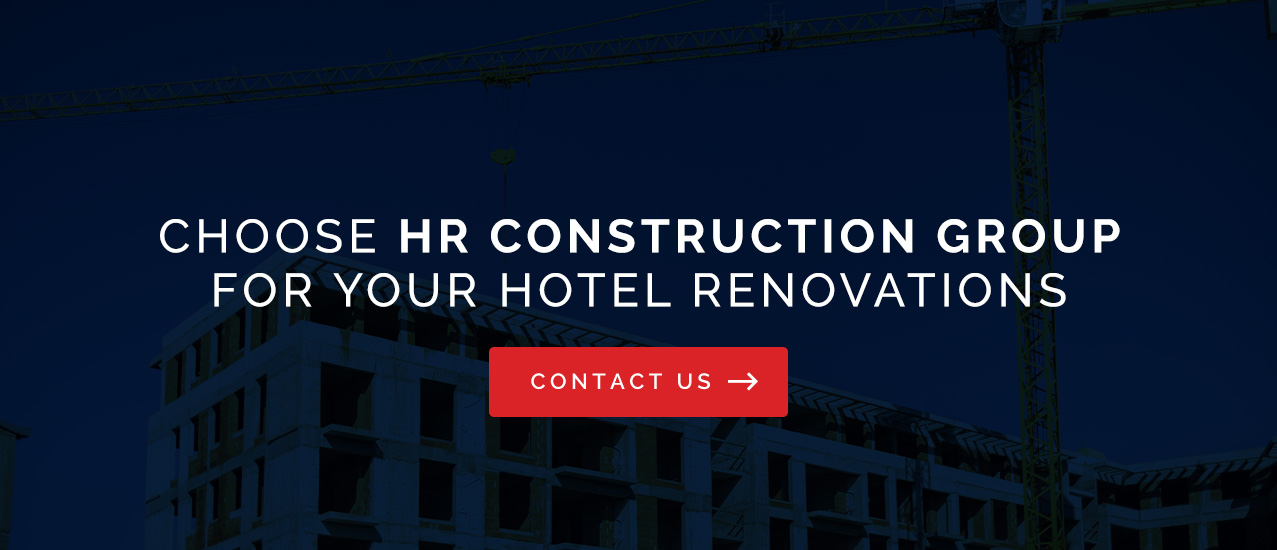 Renovation projects require time and will cause disruptions, but the end goal is always worthwhile. Managing your guests' experience is what sets you apart from others in the same process. While the noise may affect them, you should ensure they are still comfortable during their stay.
At HR Construction Group, we believe in putting your needs first so we can continue "Building Experiences Worth Repeating." Our valued clients are loyal because we understand what is most important to them and work closely together to realize their renovation dreams. We'd love to work with you on your next hotel renovation project so you can experience our top-quality service delivery firsthand.
Call us at (301) 330-1650 or complete a contact request form, and we will call you back to discuss your project requirements.