Your hotel welcomes people with diverse backgrounds, needs, and expectations. Guests select your property for various reasons. You could have families enjoying vacations or young married couples on their honeymoons. You could even have business executives coming together for important meetings or conferences. The reasons guests visit your hotel are endless, each being as unique as the next.
Regardless of what brings someone to your hotel, one thing always remains the same — you're doing more than providing a bed for them to sleep in. Therefore, you need to make sure you're giving them the best experience possible. Read on for some hotel improvement ideas to get you started.
Why Creating a Whole Experience Is Important for Hotels
According to recent research, over two-thirds of millennials prefer to spend their money on experiences instead of material possessions. As millennials continue to make more financial and traveling decisions for themselves, they'll make up a larger percentage of your consumer base. In other words, more millennials are using hotels today than ever before, and the majority of these millennials seek experiences rather than things.
This phenomenon has far-reaching implications for your hotel. As a business in the hospitality industry, your hotel exists to directly meet the needs of the clients it serves and ensure satisfaction in often unique and tailored ways. It's time to start thinking of your hotel as an opportunity to provide a whole experience for your guests to ensure their satisfaction every step of the way.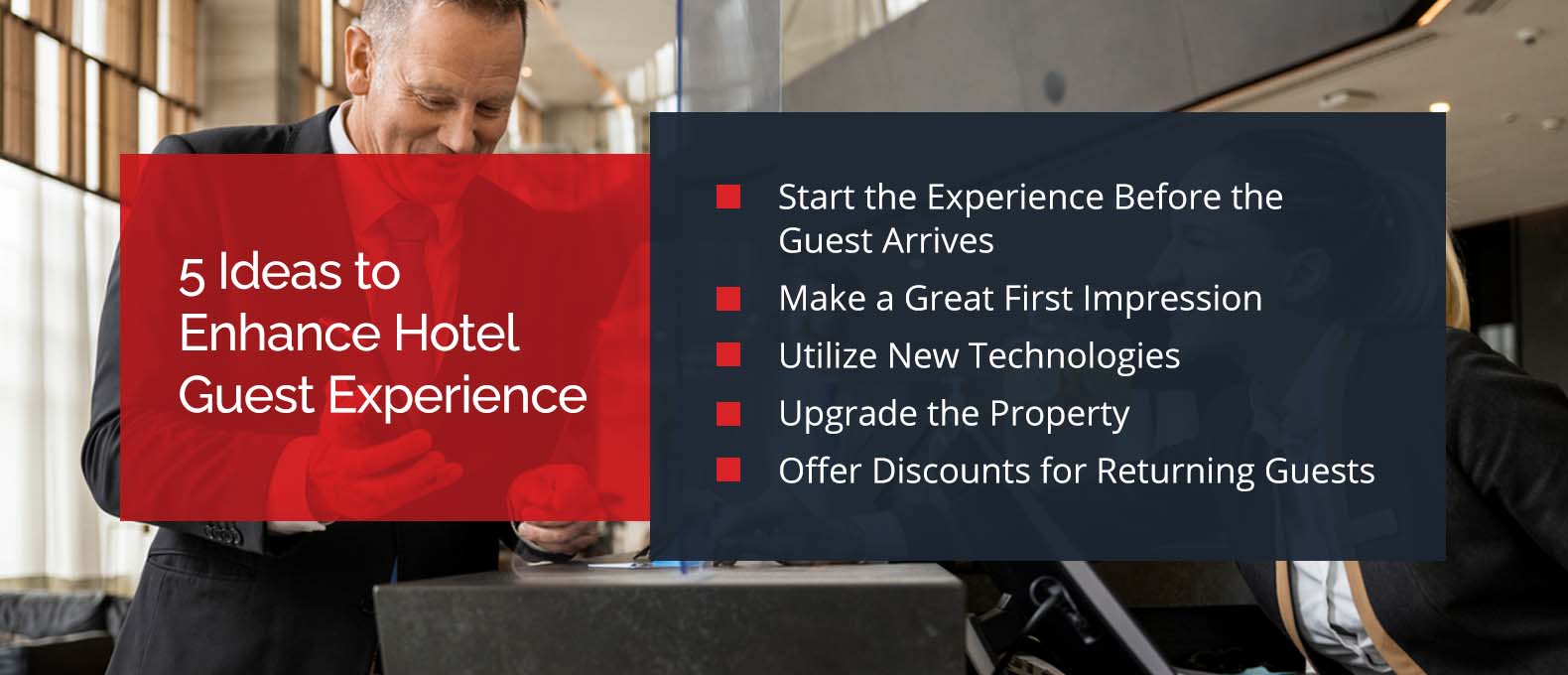 5 Ideas to Enhance Hotel Guest Experience
Here are five customer experience solutions for hotels that will help guests have the best time possible when visiting your hotel:
1. Start the Experience Before the Guest Arrives
A customer's experience with your hotel starts long before they walk through the front entrance. While you may get some clients who book their rooms in person at the front desk, the vast majority of your guests likely book their stay in advance. For this reason, you should make the process of booking a room as easy and stress-free as possible.
Optimize your hotel's website for desktop computers and smartphones for the best experience regardless of the user's device. Ensure navigation is easy with clear instructions on how to book a room. Be sure to provide ways for the user to contact you if they have any questions throughout the process. Some of the best communication methods to include on your website are contact forms, a customer support email address, a phone number, and an instant messaging chat box.
Providing high-quality pictures and video tours on your website will let your customers know what kind of experiences they can expect from your hotel. Potential clients will appreciate your transparency and feel more confident in their decision to book a room, which is a great start to their whole experience.
2. Make a Great First Impression
While the booking part of the experience is important, equally important is the moment when the guest interacts with your hotel staff in person for the first time.
All hotel staff should be professional, courteous, and patient with guests. This applies to front desk workers, luggage carriers, kitchen staff, housekeeping, and everyone else involved with each step of your guests' experience. Beyond that, you should ensure your hotel's exterior and interior spaces are well-maintained and inviting.
Here are some ideas that can help you improve the guest experience:
Ensure short check-in lines.
Offer alternative ways to check in, such as via kiosks.
Check that hotel staff is present to meet guests' needs as they arise.
Provide a clean entryway and lobby.
3. Utilize New Technologies
Many of today's consumers are looking for modern flair in the places they go, the things they buy, and the experiences they seek. When you use new technologies throughout your hotel, you show consumers you're keeping up with the times and giving them the most streamlined experience possible. Plus, technology allows you to improve sustainability measures by cutting down on plastic keycards and other waste.
Here are some examples of modern-day tech you can use in your hotel to make your guest's whole experience even better:
Check-in kiosks
Mobile check-in
Technology rentals including device chargers
Laptops or desktop computers for guest use
In-room digital assistants
Near-field communication and Bluetooth functioning for keyless entry and hands-free purchasing
4. Upgrade the Property
Particularly old, worn-down hotel buildings are less inviting to travelers than updated, modern ones. Both the inside and outside of your hotel need to look as good as possible and contribute to a more comfortable, pleasant experience for your guests.
Upgrading the property often includes renovations to bring older buildings forward in time. Yet renovations can do so much more than change a building — they can preserve it.
For example, many old hotels often want to keep their historic charm while ensuring guests still get a clean, safe, modern experience via upgrades. This goal is entirely achievable, as you can see in HR Construction Group's recent renovation project at The Carlyle, a renowned historic hotel in New York City.
5. Offer Discounts for Returning Guests
Your guests' experience with your hotel should continue even after they exit the premises. You can accomplish this by offering a small discount for return guests.
Discounts are a great way to entice visitors to come back the next time they're looking for a hotel in your area. You'll stay at the top of your guests' minds, so when they're looking for a hotel in the future, they can remember their discount and the good experience they had at your hotel on their last visit.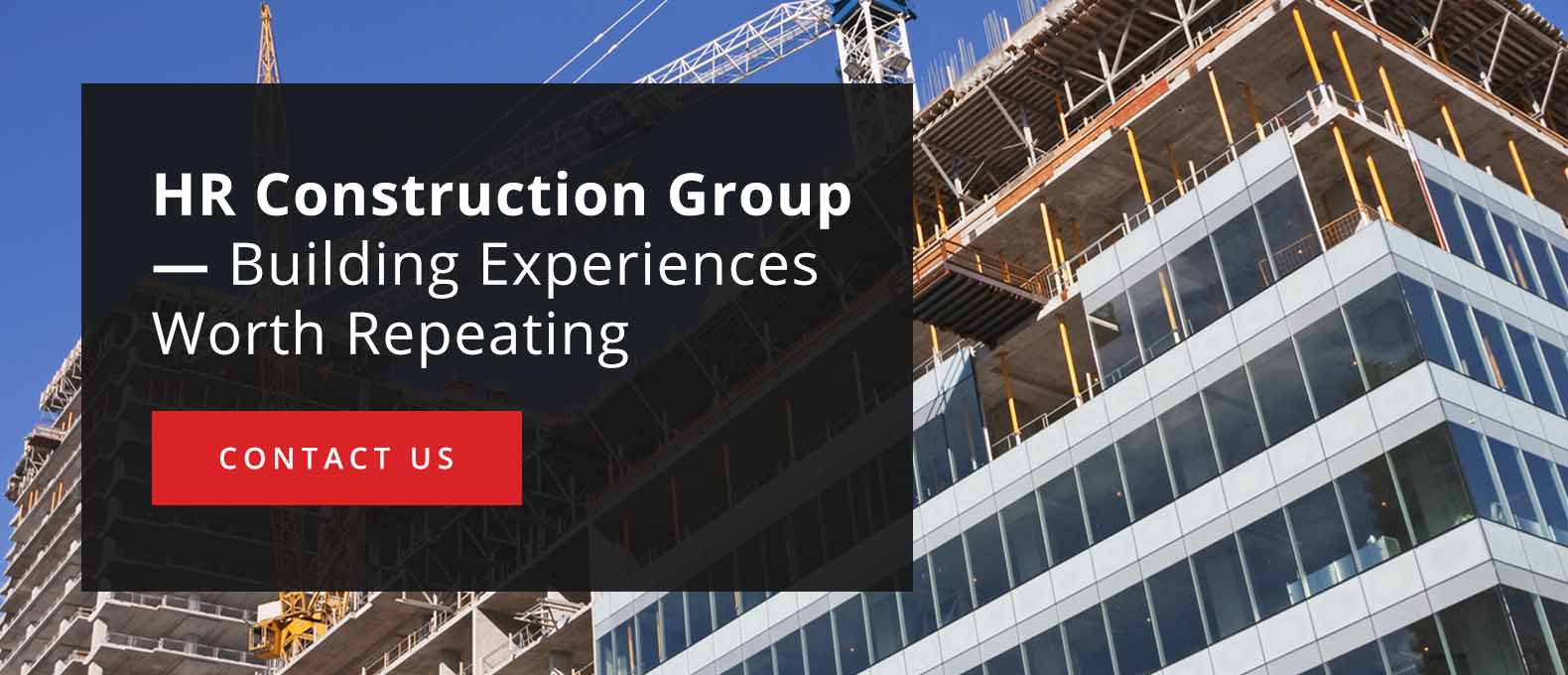 HR Construction Group — Building Experiences Worth Repeating
HR Construction Group specializes in renovations for the hospitality industry, and we're ready to use our expertise to improve your hotel. You want to give your clients an unforgettable experience, and our goal is to take on the renovation project that will make that a reality for your hotel.
We can handle renovation projects of all sizes and difficulties across the country, delivering excellent results. Contact us online or call us at (301)-330-1650 to learn more and take the next step toward hotel renovations that will set your hotel apart from the rest.