Jump to:
Once you decide it's time for hotel renovations, the lobby and main entrance are an excellent place to start. This area of the hotel has the highest impact because every guest will walk through the front door and stand in the lobby, taking in the sights along the way.
Revamping communal spaces like the main lobby can transform the guest experience to maximize your return on investment (ROI), boost repeat visits, and amplify your positive reviews. Learn more below with our tips for renovating your hotel's grand entrance and how to bring your ideas to life.
The Importance of Your Hotel's Grand Entrance and Lobby
Your hotel's grand entrance and lobby are the first things guests see when they arrive. It may even be one of their first impressions when visiting a new place. Even among locals, an inviting, attractive grand entrance will encourage more people to recommend your hotel to others and nearby organizations to consider booking events there. If you operate many locations, the first impressions guests form when visiting one of your hotels may influence their choice to stay at another one down the road.
In any case, getting the grand entry and lobby right is critical. Remodeling your lobby and entrance is your chance to reshape your image and manage your guest experience from the very start of the journey. Since the entrance and lobby work together as the interior and exterior focal points of your property, renovating them can offer excellent benefits such as:
– Modernizing your look and bringing your brand in line with the present day
– Preserving your historic building's storied past while modernizing the look
– Increasing your curb appeal to encourage more bookings
– Helping your guests enjoy their stays
– Presenting a polished, professional image
– Exemplifying and accentuating your brand
– Catering better to your target guests with useful amenities and communal spaces
– Improving your online reviews
– Fixing architectural and structural elements in need of repair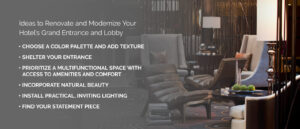 Ideas to Renovate and Modernize Your Hotel's Grand Entrance and Lobby
Renovating your hotel in high-impact spaces like the front lobby is an exciting task. It's a chance to unleash your inner creativity and have some fun comparing flooring options, paint colors, and other decorative elements. With the help of experienced architects, interior designers, and a reliable general contractor, you have complete freedom to blend function with style and create a modern, inviting design that fits your hotel's unique brand.
Here are a few ideas to get you started:
1. Choose a Color Palette and Add Texture
Choosing a consistent color scheme for your entrance and lobby can guide many vital decisions in the design process. Colors can invoke certain moods and parallel the destination your hotel or resort serves. It's wise to choose a color family for the exterior that complements the colors in the lobby.
Another design element that's similar to the color scheme is the materials and textures you will use. For example, consider how different a sleek glass door might appear from an intricately carved wooden door. Likewise, bamboo architectural accents will give off a totally different look and feel from metal or marble. Choosing certain materials can inform and enhance your color palette and shape the ambiance of the space.
2. Shelter Your Entrance
The canopy or porte-cochère just outside your entryway serves an essential role in the guest experience. Whether arriving or leaving, guests will stand just outside the entry while they wait for staff to collect or return their luggage, a car to pick them up, or a valet to return their vehicle. Having a covered waiting area shelters them from the cold, rain, or hot sun.
The covered entrance can also add architectural dimension to the building. Depending on your design goals, you might add visual intrigue to the ceiling, Greco-Roman-inspired columns, a glass roof, a dynamic archway, or other design features to turn your entrance into a focal point.
3. Prioritize a Multifunctional Space With Access to Amenities and Comfort
While the visual appearance of your lobby will strike visitors with their first impressions, how visitors feel when using the space is what leaves the lasting impression. The modern hotel guest likes to spend their downtime in communal areas around the hotel, not just their rooms. To plan a lobby layout that satisfies this need, consider functionality first. Design a space with multiple uses for the many types of guests who might stay in your hotel, from vacationing families to lone business travelers and everyone in between.
Create separation between different spaces. You might place comfortable seating by the check-in desk, a quiet work zone with workstations and power outlets, and a café or cocktail bar with a fun lounge area for socializing. Include amenities such as free Wi-Fi, coffee and snack bars, gift shops, TVs, and other practical or unique offerings.
4. Incorporate Natural Beauty
A few well-placed potted plants can add liveliness and serenity to the entrance and interior lobby alike. Plants are also a natural mood booster, which enhances the guest experience. Some hotels take their nature-inspired décor to the next level with living greenery walls and even full-grown trees in their lobbies.
Some other natural design elements to consider include fountains and water features, fish tanks, exposed wood, and eco-friendly building materials.
5. Install Practical, Inviting Lights
Lighting is an often overlooked design feature for interiors and exteriors alike. The fixtures themselves can complement the architecture and décor, while the color temperature, brightness, and angles can create an atmosphere. Focusing a dedicated light on a plant or lighting up an architectural column from below, for example, increases the focus on these design elements or sets the mood in low-lighting conditions.
At the grand entrance, ample lighting draws attention to the building from afar and helps guests find the front door. Consider lining the path to the main entryway with walk-on floor lights or antique-inspired street lamps, depending on the tone you want to set.
6. Find Your Statement Piece
A common sight when you walk in the front entrance of any building is a grand staircase. A tall, sweeping staircase acts as a natural focal point for the rest of your lobby. But a staircase isn't your only option. Your statement piece could be a unique sculpture, a water feature, or eye-catching wall art. Choosing a centerpiece for your lobby and even for the exterior of your entrance will tie the entire renovation project together and bring out all the other design features you've chosen.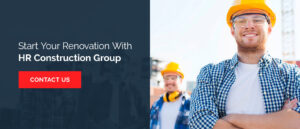 Start Your Renovation With HR Construction Group
When embarking on a hotel lobby remodeling project, your possibilities are endless. To give your renovation a grand vision and flawless execution, we recommend working with a design-build team led by an experienced general contractor like HR Construction Group. With the design-build approach, we can fast-track your commercial remodeling project by combining the expertise of construction managers with architects and designers. It simplifies planning and contracts because we'll act as your one point of contact and the single party responsible for making your vision a reality.
We'll hire all the experts for you, from engineers to electricians, and manage your project from start to finish. To see what we can do for your hotel, explore some of our featured projects in the hospitality industry. We count some of the biggest hotel chains in the country among our satisfied clients, and we'd love to add you to the list. To learn more about our services, send us a message and tell us about your ideas for your hotel's grand entrance.